Fifth Floor
Most important thing to know about the fifth floor is that it is for quiet study only. Users should refrain from conversations and silence their phones while studying up here.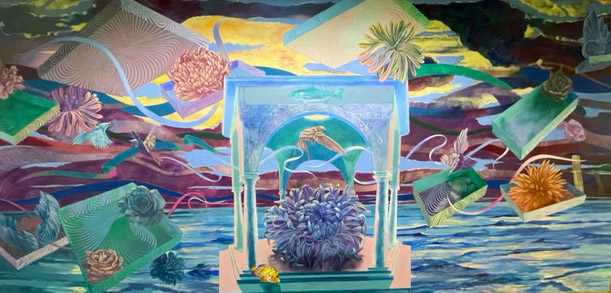 Art
If you pass through the glass doors you'll see an exhibit space with selections from our Special Collections and University Archives. The current exhibit highlights items about the Citizen's Bank of Oviedo.
Beyond the exhibit cases you will see a very large acrylic painting titled Wisdom Temple by Steve Lotz. Mr. Lotz became the UCF Art Department's first chairman in 1968 and continued teaching at UCF until his retirement in 2003. You can see more of his work throughout central Florida including the Orlando International Airport and in UCF's Millican Hall.
Offices
Many library departments are located on the fifth floor including the Administrative offices, Cataloging and Acquisitions, as well as Special Collections and Library Archives.
Seating and Computers
Due to the quiet nature of this floor, you will not find group study rooms or tables here. But you will find a large variety of types of single seating configurations as well as computers and outlets. The large glass windows also give patrons a panoramic view of the campus while they choose a seat to enjoy a good fun read, review class notes, or research our databases on a computer.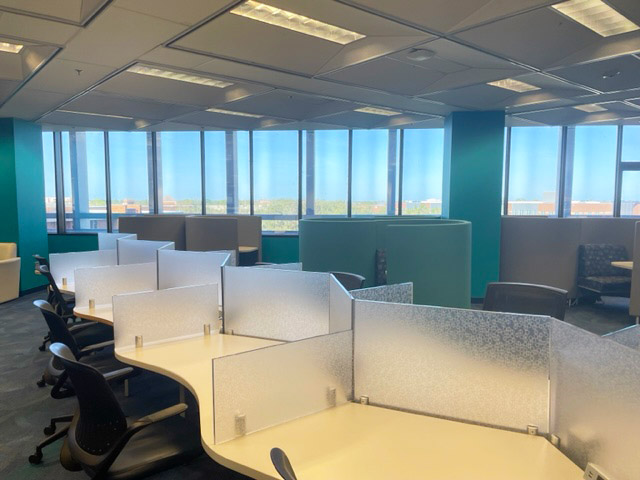 Restrooms
There is one set of men's and women's restrooms on this floor which can be reached from the study area by walking through the glass doors, past the exhibit cases, and making a left down the hallway.