Second Floor
This is the main floor of the Hitt Library. Users can enter and exit the library either from the side facing the fountain or from the side facing the student union.
Service Desks
There are three public service desks on this floor.
Circulation Desk is located by the student union entrance and is where you will go to check out books, course reserves, and study room keys. Search our catalog for any books you might need here. https://library.ucf.edu/find/books/
LibTech Desk is located by the fountain side entrance and is where you will go to check out and return tech items such as laptops, calculators, cameras, charging cords,etc. You can browse the items available here https://library.ucf.edu/technology-lending/
Research and Information Desk is located in the middle of the floor and is where you can meet with a librarian to ask research questions. Nothing beats in person help, but our research guides can be a great starting point for your project. https://guides.ucf.edu/homepage
Restrooms
There are 2 locations; note the restrooms nearest the Circulation Desk have baby changing stations. The other set of restrooms are up the small set of stairs next to the Knight Reads bookcase in the café. Or you can take the set of three elevators along the brick wall.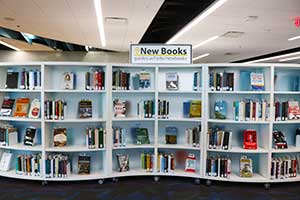 Collections
From the browsing books in the Knight Reads section near the café to the New Books shelf by the Circulation Desk, you'll find plenty of fiction and nonfiction to enjoy.
The reference collection of books is also located on this floor. These books are for in library use only and can not be checked out.
Print Stations
Visit the print zone to print items from one of the library computers or from your laptop. You can also scan or make copies. You can add money to your account using one of the kiosks and your UCF ID card. Or by purchasing a guest card if you are not affiliated with UCF. More information on printing available here https://library.ucf.edu/services/print-copy-scan/.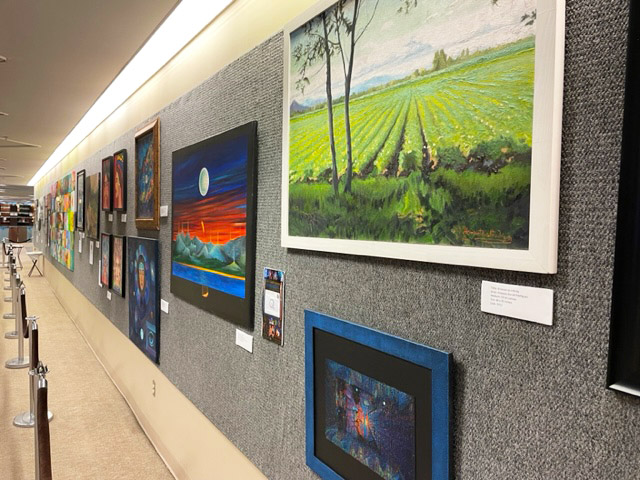 Art
Enjoy the latest exhibit on the seventy foot art wall as well as several exhibit cases. Currently a Lunar New Year exhibit is on display until the end of January but visit often to see all of our exhibits throughout the year.
Cafe

Take a break with a cup of coffee or a pastry at the Infusion Cafe and don't forget a fun read from our Knights Read bookcase conveniently located adjacent to all your caffeinated beverages. Maybe you'll spot Professor Pegasus on your next visit.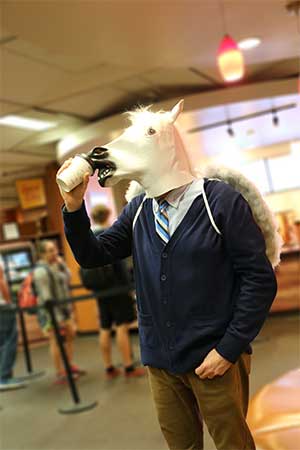 Seating
Enjoy ample group and single study seating throughout the floor as well as lots of outlets to keep your devices charged.
Instruction
If you have a library instruction session or attend a library event, it might be in one of the rooms on this floor. Rooms 223, 235A, and 235C serve as locations for various library events and workshops.
Offices
Interlibrary Loan offices are also located on this floor. Please be sure to wait until you receive an email confirmation that your item is ready before coming to campus to pick it up as well as information on where in the library to get it. More information about Interlibrary Loan can be found here https://library.ucf.edu/services/borrowing-from-other-libraries/.
That's it for this week. Join us next week for another look at your library!