Fourth Floor
This floor is mainly for quiet study. There is plenty of seating and outlets as well as many chances to see art and views of the UCF campus.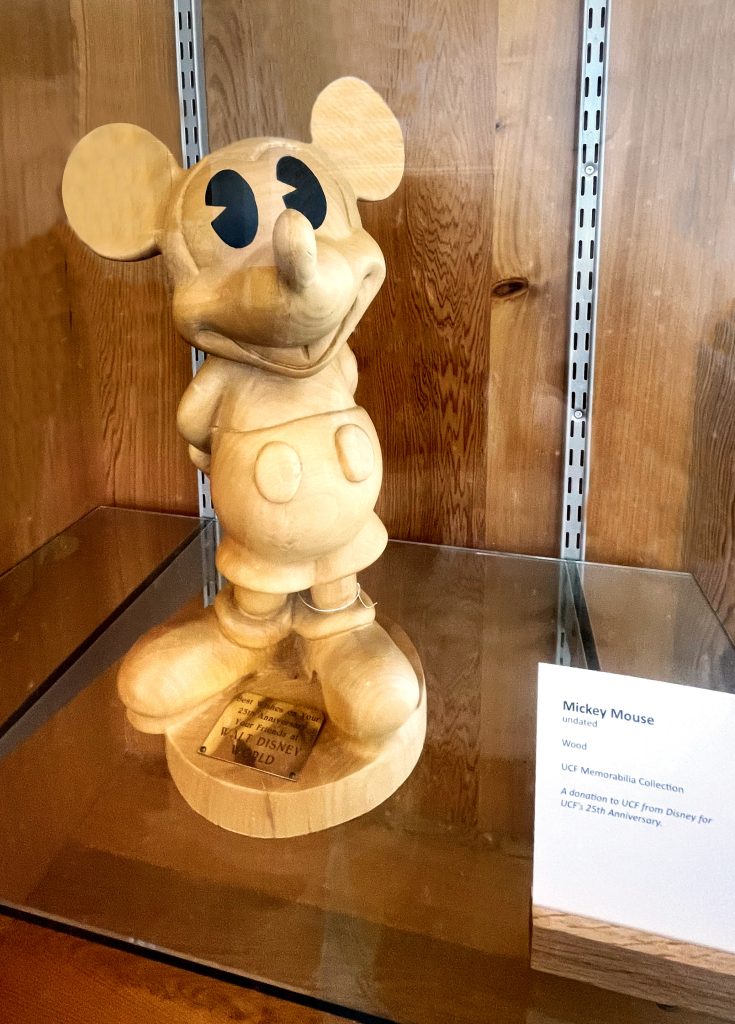 Art
The Gallery is fairly new to the fourth floor but has already featured a variety of exhibits like Spirit Splash, Student Book Arts, and other collections from our University Archives and Special Collections. Follow us on social media to learn what the next exhibit will be.
Talk about hidden Mickeys! You can spot some pieces of history and art in the Reading Room like this wooden Mickey Mouse or the original Vinnie the Vulture.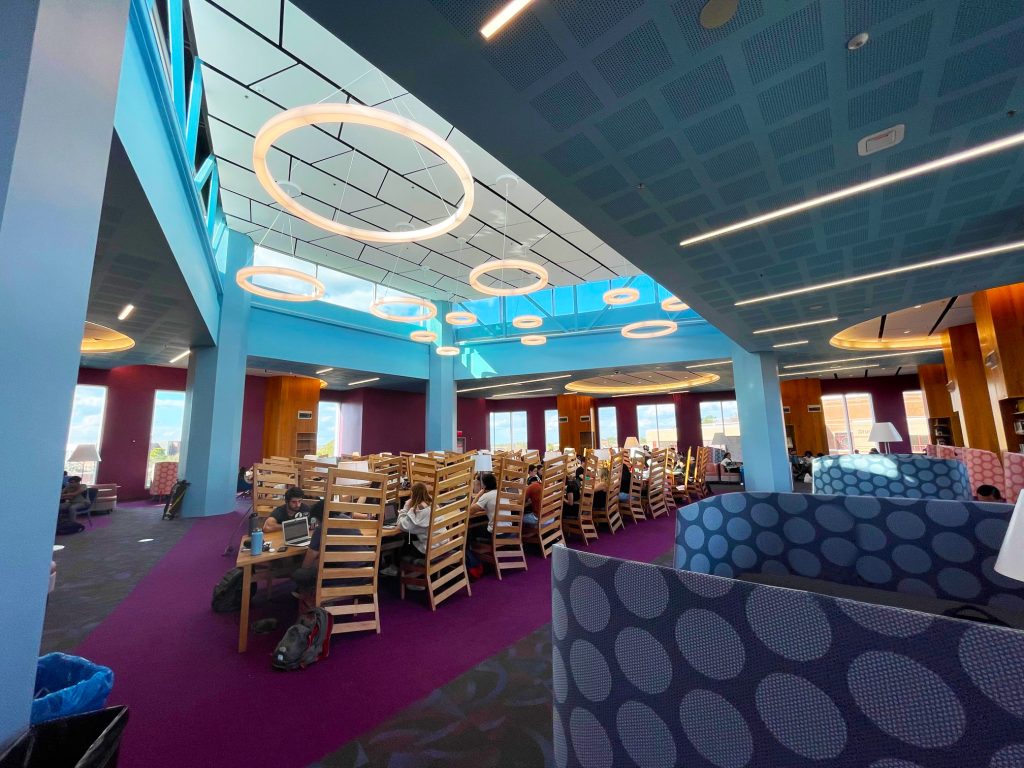 Seating
A variety of seating is available on this floor along with plenty of outlets and some great views of the UCF water tower and campus. Lots of students enjoy quiet study time in the reading room pictured here with its ecletic furniture and some great pieces from our SCUA art collection.
Quiet
One of the most important thing to know about this floor is that the 4th and 5th floors are designated quiet spaces. These floors are for users to engage in quiet solitary study. Patrons needing group study or conversation, should visit the 1st – 3rd floors or check out a study room.
Collections
General Collection books, which are the ones patrons can check out of the library rather than being used only while in the library, are located on this floor. Books with call numbers N – Z are located on this floor.
Our UCF Author collection can also be found on this floor in the Reading Room. Get in good with your professor by picking up their book!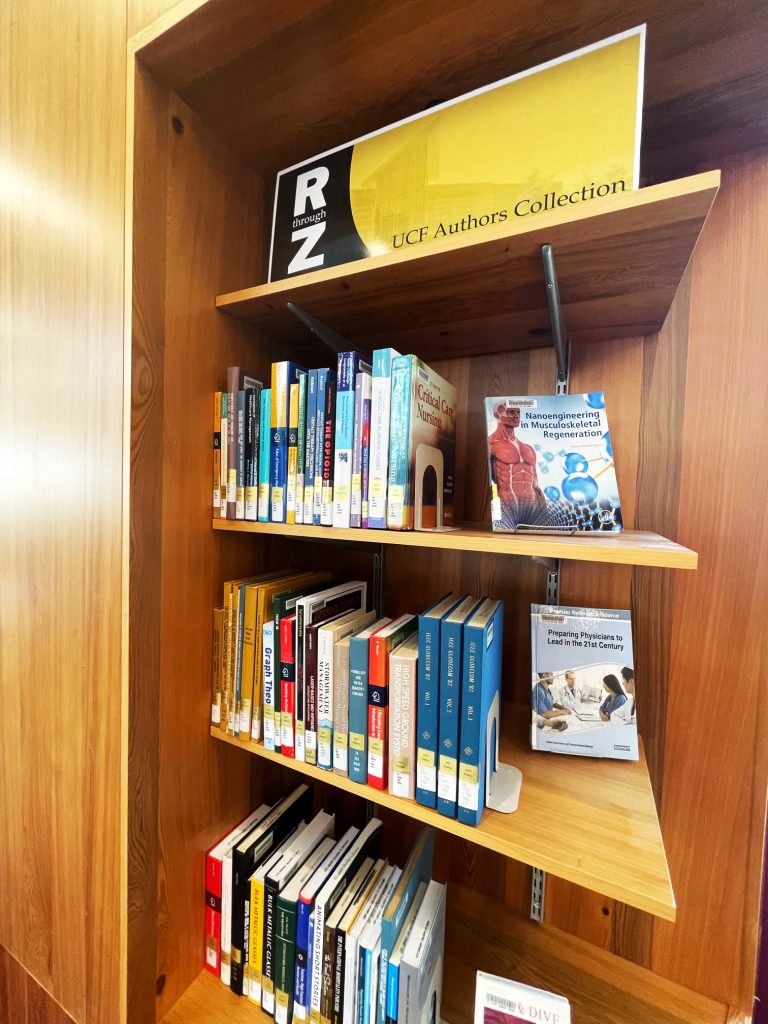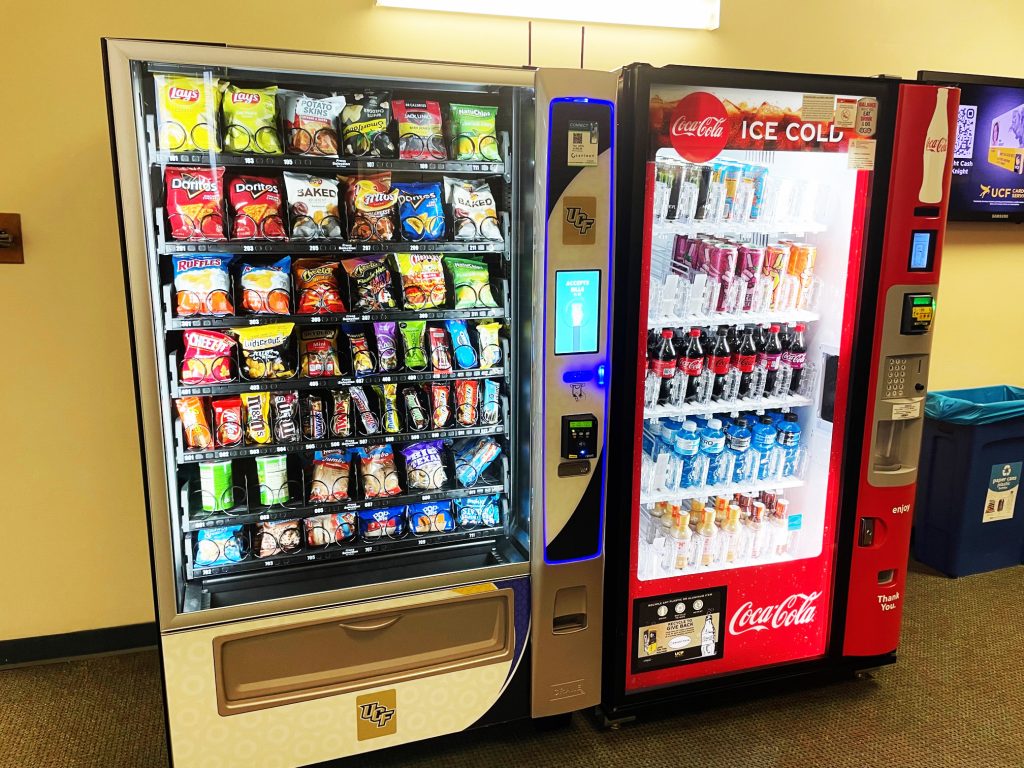 Food/Drink
Got the munchies mid study? There are two vending machines on this floor stocked with snacks and cold drinks.


Restrooms
There are two sets of restrooms on this floor. One near the Student Union side of the building and the other nearer the center.
Events
If you attend an event or workshop at the Hitt Library, it might be in room 402 which features lovely carved wooden doors, projectors, and floor to ceiling windows which look out over UCF.
Join us next week as we cover the fifth and last floor of the HItt Library. After that we'll cover our specialty libraries: Curriculum Materials Center, Rosen Library, College of Medicine Library, and our various branch libraries.