Congratulations to Lee Dotson for being named an Institutional Repository All-Star during the Digital Commons North American Conference 2021! Ms. Dotson is the interim department head for Technology Solutions & Digital Initiatives and has been the Repository Manager for STARS since it launched in 2015.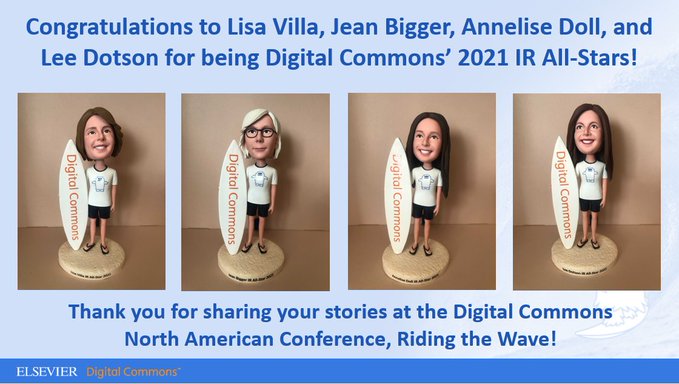 UCF's Lee Dotson was one of four 2021 IR All Stars!
Ms. Dotson was introduced by Benjamin Gaunt, Digital Commons customer service representative, who described her as "…perhaps the busiest and most effective IR manager I've worked with — her repository contains literally hundreds of collections and has received over 5 MILLION downloads to date. This all-star leads the University of Central Florida's STARS repository with extraordinary vision and collaboration — her tight-knit team at the library is known for bringing diverse, innovative collections on board and working closely with us here in Consulting Services to meet each collection's individualized needs. As a result, I believe she may be one of the most knowledgeable and cutting-edge users of Digital Commons to date."
In accepting this award, Ms. Dotson recognized that STARS is truly a team effort made possible by the incredible efforts, encouragement, championing, and support from nearly every department in the UCF Libraries. From Scholarly Communication to Cataloging and Subject Librarians to Archivists, the success of STARS depends on an environment of cooperation and collaboration throughout the libraries and across the campuses. The day to day operations and rapid growth require creative, dedicated, and hard-working individuals. "I'm fortunate to work with amazing colleagues and that Page Curry and Kerri Bottorff rise to the challenge every day to support varied faculty, student, and community digital projects," said Ms. Dotson.
UCF content creators, authors, and the community are the heart of STARS, UCF's Showcase of Text, Archives, Research & Scholarship, which exists to collect, share, and provide ready access to works by, for, and about the University of Central Florida. Explore the collections at stars.library.ucf.edu. For more information about how STARS can help you share your work with a worldwide audience, visit our STARS Digital Repository page or contact stars@ucf.edu
2 responses to "STARS has an Institutional Repository All-Star!"