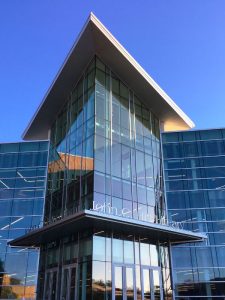 Charge On Over UCF Knights!
UCF Libraries resumes onsite services in a limited and flexible manner.
Hours
John C. Hitt Library Hours: Reopening Monday, August 24th
Monday – Thursday: 8a – 6p
Friday: 8a – 5p
Saturday: 10a – 6p
Sunday: Noon – 6p
CMC, Downtown, and Rosen (Branch Libraries): Reopening Monday, August 24th View All Hours
New Guidelines and Procedures
Follow UCF's COVID guidelines: wear face coverings, practice physical distancing, and wash hands frequently.
Library hours are reduced to accommodate staggered or remote work schedules.
Seating is identified as "do not sit" to achieve physical distancing. Please do not remove signs or rearrange furniture.
Group study rooms are unavailable and in-person group work is discouraged due to health recommendations.
Procedures for lending technology and course reserves are modified to reduce contamination.
Some services are available virtually or by appointment only.
Academic resources are always available online.