Events
Posted: April 3rd, 2017
April is National Poetry Month and the UCF Libraries are springing headlong forward to celebrate.
Student Poetry Contests
Ode to a Library – Submissions due by April 14, 2017 at 11:59 pm.
Poem of any style or length about library
Haiku by You – Submissions due by April 21, 2017 at 11:59 pm.
"Haiku" is a traditional form of Japanese poetry. Haiku poems consist of 3 lines. The first and last lines of a Haiku have 5 syllables and the middle line has 7 syllables. The lines rarely rhyme.
Winners will receive a Library Superpowers T-shirt and be published in STARS KnightVerse.
You can submit your poems at: http://ucflib.fyi/npm2017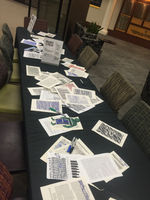 Erasure Poetry
An Erasure Poetry table will be set up between the Circulation Desk and Reference Desk from April 3 – 7. Staff favorites will be displayed on the windows by the entrance and on library social media accounts.
Featured Poems
The UCF Libraries Tumblr account will feature daily poems which are favorites of library staff. Tag us in your favorites on Tumblr!
Open Heart Open Mic
Join us for the last Open Heart Open Mic of the semester on Tuesday, April 18th from 12-1:30PM in John C. Hitt Library room 223.