Downtown Campus Library is bringing you a series of workshops and study breaks to help you achieve your goals this semester.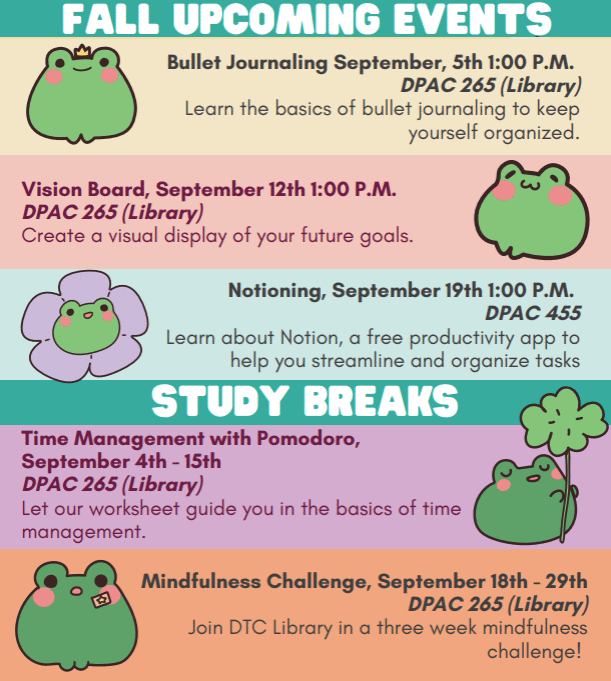 Join us on September 5th at 1:00PM at the Downtown Campus Library in room 265 of the Doctor Philips Academic Commons to learn more about bullet journaling and how it can keep you organized.
On September 12th at 1:00PM work with library staff to develop a vision board. This visualization exercise will help you display your future goals in a concrete, tangible way.
Our last workshop in our Froggy Productivity Series will be on September 19th at 1:00 P.M. in DPAC 455. Our staff will introduce you to the productivity software Notion. This app offers free membership to students, and it is a great way to streamline and organize tasks.
If you can't make it to one of our workshops, the library is providing "study breaks." These are quick, takeaway activities that will help you with time management and mindfulness. Visit the Downtown Library in DPAC 265 from September 4th through 15th to get a Time Management with Pomodoro worksheet. From September 18th through September 29th, we will be distributing worksheets for our mindfulness challenge.

Any UCF or Valencia student who participates in three events or study breaks will be eligible for a prize drawing. Attend more events and study breaks to increase your chances of winning!