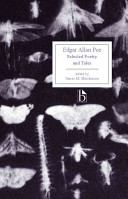 The UCF Library loves Halloween! We recommend you get spooky this weekend with Edgar Allan Poe:
 Edgar Allan Poe : selected poetry and tales, edited by James M. Hutchisson.
http://ucf.catalog.fcla.edu/permalink.jsp?29CF030647544
UCF Main Library General Collection – 4th Floor — PS2603.H88 2012
This Broadview Edition includes a selection of Poe's poems, tales, and sketches in such diverse modes of writing as tales of the supernatural and psychic conflict, satires and hoaxes, science fiction and detective fiction, and nonfiction essays on literary and social topics. These are supplemented by a selection of contextual documents–newspaper and magazine articles, treatises, and other historical texts–that will help readers understand the social, literary, and intellectual milieus in which Poe wrote.