Every year, the UCF faculty and staff community donate to the Believe campaign. The campaign benefitted all colleges, departments, and initiatives on campus, as well as funding services that provide direct help to students, like Knights Helping Knights Pantry, and scholarships like First Generation Scholarships and the Libraries' June Stillman Scholarship. The 21st Century Library building fund was also a beneficiary of Believe.
To encourage participation, our own David Benjamin, head of Special Collections, selflessly offered to go blonde if the library increased their participation to 51%.
The totals are in: the UCF Libraries had a 59% participation rate this year! We are proud to have helped UCF donate a total of over one million dollars to many worthy causes.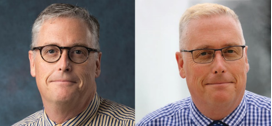 David's new look has not changed his enthusiasm for Special Collections and Archives (SCUA). Check out the display on the 5th floor of the John C. Hitt Library, Recollections of a Cartoonist: The Glenn "Marty" Stein Collection of Cartoon Art, 1955-2013 to sample some of SCUA's excellent work. And if you spot David Benjamin, ask him if it's true blondes have more fun.