With over 5.3 million downloads since 2015, STARS helps authors reach a worldwide audience by providing an online home for open access content! STARS, UCF's Showcase of Text, Archives, Research & Scholarship, is the digital institutional repository of content by, for, or about the University of Central Florida. Everyday UCF authors use STARS to manage, share, and increase impact for their full range of scholarship while retaining the rights to their works.
Did you know you UCF editors can host open access journals in STARS? STARS provides support for open access journals from hospitality management to undergraduate research and communication to education. A shining example is The Journal of International Crisis and Risk Communication Research (JICRCR) which "is the first scholarly journal dedicated to human and mediated communication issues associated with crises, risks, and emergencies around the world. The journal is supported by an international editorial board comprised of top crisis and risk communication scholars. JICRCR is a biannual peer-reviewed, open access publication, which means that all content is freely available without charge to the user or institution." (From https://stars.library.ucf.edu/jicrcr/)

JICRCR's UCF connection comes from two professors in the Nicholson School of Communication and Media – the Editor-in-Chief is Dr. Timothy Sellnow, Professor and Interim Associate Director of Graduate Studies, Research and Creative Activity, and one of the Associate Editors is Dr. Patric Spence, Associate Professor. The journal has garnered nearly 320,000 downloads since it began posting works in STARS in March of 2018 with over 280,000 downloads for one article alone earning it the distinction of the most downloaded item in the entire STARS repository.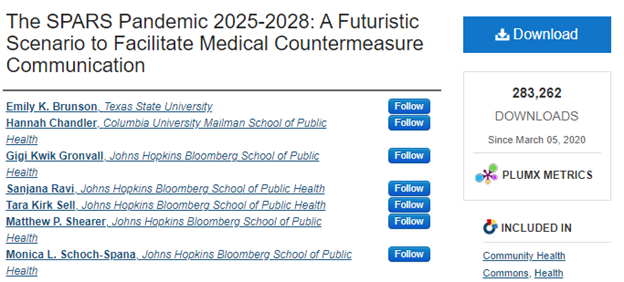 Published on March 2, 2020, as COVID-19 was beginning to spread causing isolations and quarantines, "The SPARS Pandemic 2025-2028: A Futuristic Scenario to Facilitate Medical Countermeasure Communication" details the planning and preparation for effective communication regarding medical countermeasures using a fictional, futuristic emergency event. While search engines usually account for the majority of downloads in STARS, the readership dashboard for this article tells a different story. In this case, the dashboard, which provides access to real-time download activity, alternative metrics, and usage reports on demand, reveals that Google and DuckDuckGo share top billing for referrers with the Johns Hopkins Center for Health Security. After further investigation, it was discovered that the Johns Hopkins Center for Health Security shares this article among its list of publications. The additional exposure generated by being linked from an external website may be related to increased traffic via Facebook and Twitter as well. The integration of PlumX data with STARS provides alternative metrics for this article showing a total usage of 371,176 with 14 Mendeley captures, 5 blog mentions, and 3,492 social media interactions.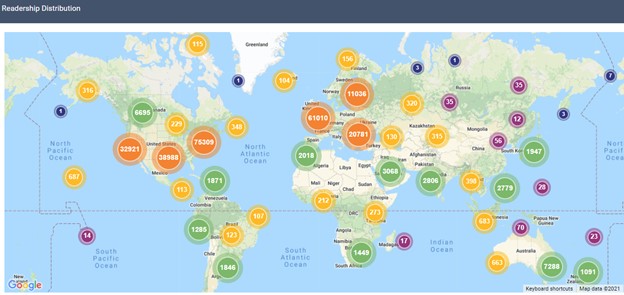 A timely topic, search engine friendly platform, and open access sharing on a website combined to make this particular article a star in its own right. Researchers navigate a world where scholarship is increasingly digital. STARS allows authors to freely share open educational resources, podcasts, image galleries, journals, event proceedings, and much more with global users.
If you want to learn more about using STARS to share your work while retaining your copyright, please email stars@ucf.edu or visit stars.library.ucf.edu