Enjoyed Ladybird? Try reading one of these titles!
All Libraries
Posted: February 23rd, 2018
If you enjoyed watching Lady Bird, the film that broke the best Rotten Tomatoes record of all time last year, you'll probably enjoying reading some of these books from our collection. Comical mother/daughter relationships abound and many of them have been made into popular movies as well. Happy reading! (Summaries plucked from Amazon.)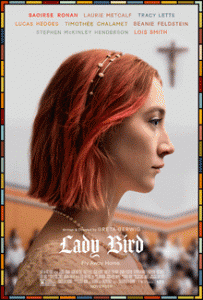 Joy Luck Club
The Joy Luck Club tells the story of four older Chinese-American women and their complex relationships with their American-born daughters. The story moves from China in the early twentieth century and San Francisco from the 1950s to the 1980s, as the eight women struggle to reach across a seemingly unpassable chasm of culture, generation and expectations to find strength and happiness.
Anywhere But Here
A national bestseller—adapted into a movie starring Natalie Portman and Susan Sarandon—Anywhere But Here is the heart-rending tale of a mother and daughter. A moving, often comic portrait of wise child Ann August and her mother, Adele, a larger-than-life American dreamer, the novel follows the two women as they travel through the landscape of their often conflicting ambitions.
Pride and Prejudice
In one of the most universally loved and admired English novels, a country squire of no great means must marry off his five vivacious daughters. Jane Austen's art transformed this effervescent tale of rural romance into a witty, shrewdly observed satire of English country life.
Where'd you go, Bernadette?
Bernadette Fox is notorious. To her Microsoft-guru husband, she's a fearlessly opinionated partner; to fellow private-school mothers in Seattle, she's a disgrace; to design mavens, she's a revolutionary architect, and to 15-year-old Bee, she is a best friend and, simply, Mom. Then Bernadette disappears. To find her mother, Bee compiles email messages, official documents, secret correspondence–creating a compulsively readable and touching novel about misplaced genius and a mother and daughter's role in an absurd world.
Are you my Mother?
A woman, unhappily married to a closeted gay man, whose artistic aspirations simmered under the surface of Bechdel's childhood . . . and who stopped touching or kissing her daughter good night, forever, when she was seven. Poignantly, hilariously, Bechdel embarks on a quest for answers concerning the mother-daughter gulf.
Divine Secrets of the Ya-Ya Sisterhood
A poignant, funny, outrageous, and wise novel about a lifetime friendship between four Southern women, Divine Secrets of the Ya-Ya Sisterhood brilliantly explores the bonds of female friendship, the often-rocky relationship between mothers and daughters, and the healing power of humor and love, in a story as fresh and uplifting as when it was first published a decade and a half ago.