Excited about A Wrinkle in Time?
All Libraries
Posted: March 2nd, 2018
Anyone else can't wait for A Wrinkle in Time to come out in theaters? If you want to read the book before seeing the movie, you still have one week left! And we have SO many ways to read, watch, or listen to the story.
Original novel by Madeleine L'Engle
Graphic novel adapted by Hope Larson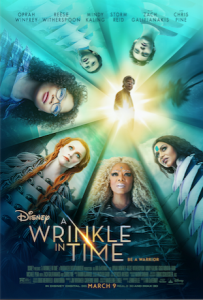 Audio book performed by critically acclaimed actress Barbara Caruso
Video of Disney's 2004 mini-series of the title
If you'd like to continue the adventures of the Murry family from A Wrinkle in Time, read these…
A Wind in the Door With Meg Murry's help, the dragons her six-year-old brother saw in the vegetable garden play an important part in his struggle between life and death.
A Swiftly Tilting Planet The youngest of the Murry children must travel through time and space in a battle against an evil dictator who would destroy the entire universe.
Or if you'd just like to read more of Madeleine L'Engle's work, check out…
The Young Unicorns A seventeen-year-old boy, former member of a tough New York gang, a blind and talented twelve-year-old musician, the Austin family, and Canon Tallis are among the key characters who become involved in a frightening and evil scheme relying on the ability of a refined laser to give complete power over people's minds.
Two Part Invention: The Story of a Marriage This moving memoir documents a marriage of more than forty years between two gifted people, a long term marriage that was: "full of wonderful things, terrible things, joyous things, grievous things, but ours."
And Both were Young Flip doesn't think shell ever fit in at the Swiss boarding school. Besides being homesick for her father and Connecticut, she isn't sophisticated like the other girls, and discussions about boys leave her tongue-tied. Her happiest times are spent apart from the others, sketching or wandering in the mountains.
Camilla Fifteen-year-old Camilla gains new maturity through her relationship with her best friend's brother and the growing realization that her parents are fallible individuals.
A Ring of Endless Light During the summer her grandfather is dying of leukemia and death seems all around, 15-year-old Vicky finds comfort with the pod of dolphins with which she has been doing research.
A Circle of Quiet Madeleine L'Engle's personal place of retreat near a brook, a ten-minute walk from her family's country home. This volume is a sharing of her inner life shaped primarily from materials in her journals.
Dare to be Creative Lecture presented by the author at the Library of Congress' National Children's Book Week. She discusses censorship, writing, love, and friendship.