Happy National Poetry month! Did you know that the United States has an official poet?
What is the United States Poet Laureate?
The Poet Laureate Consultant in Poetry — the full title — is the nation's official advocate for the worth and impact of poetry. The Poet Laureate is appointed annually by the Librarian of Congress and may be elected for a second term. This position was established in 1937 under a different title with slightly different duties, funded through a private endowment from Archer M. Huntington. The current title was adopted in 1986.
What does the Poet Laureate do?
The Library of Congress gives Poets Laureate few specific duties, lending them much freedom to create their own outreach projects. Many people who hold this position do so while still performing their normal duties, such as teaching University courses, writing, raising a family, etc. Some past Laureate projects include:
"The Favorite Poem Project" by Robert Pinsky (Poet Laureate from 1997 to 2000). This project called for Americans to share their favorite poems. The idea was to highlight the importance of poetry in the everyday life of Americans of varying backgrounds. Over 18,000 Americans ages 5 through 97 contributed, and you can watch some of them reading their selections on the project's website.
"La Casa de Colores" by Juan Felipe Herrera (Poet Laureate from 2015 to 2017). This project includes two features: La Familia, an epic crowdsourced poem to which anyone could contribute for the duration of his Laureateship, and El Jardín, an online collection of Herrera's poetic responses to and curators' descriptions of primary sources in the Library of Congress.
"American Conversations: Celebrating Poems in Rural Communities" by Tracy K. Smith (Poet Laureate from 2017 to 2019). Smith traveled to rural locations across various states to lead poetry readings and discussions. The goal of this project was to spread the connective powers of poetry beyond cities and university-centered areas to locations where poetry programming does not often happen.
Who is the current Poet Laureate?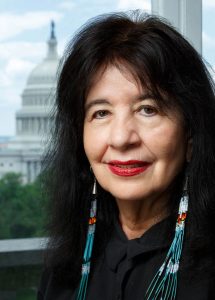 The current Poet Laureate is Joy Harjo , a poet, playwright, and musician. Harjo is the author of nine books of poetry, several plays and children's books, and a memoir, Crazy Brave. She is also a member of the Muscogee (Creek) Nation and the first Native American person to be appointed as Poet Laureate.
In addition to her role as Poet Laureate, Joy Harjo directs an arts mentorship program for young Muscogee women called For Girls Becoming and is a founding board member of the Native Arts and Cultures Foundation. She is curating Poem-a-Day for the entire month of April 2020, so check it out and sign up to be emailed previously unpublished work from contemporary poets.
When asked about her plans as Poet Laureate, Joy Harjo said:
"I can remind people that they use poetry, go to poetry, frequently, and may not even know they are. A lot of song lyrics are poetry. They go to poetry for a transformational moment, to speak when there are no words to speak."
Like any art, poetry brings us human connection, understanding, and expression. Reading it can show us the words, written by someone entirely different, for the exact things we have always felt.
Read some poems by Joy Harjo here on poets.org and poetryfoundation.org.
Happy National Poetry Month!