Tablets, Scanners & Collaborative Technology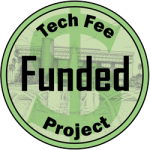 Project Description
Over the last several years, the John C. Hitt Library has added a variety of technology equipment to be checked out to students. The laptop loan program was implemented in 1999 and has been expanded over the years. Through this program, users can check out a laptop and use it for 4 hours in the library. The first iPad loan program went live in 2010 along with loaning digital and video cameras, Blu-ray players, scanners which can all be checked out for a week. This proposal will outline a plan to provide Dell tablets as a complement and alternative to the iPad. In addition, public scanning stations will be proposed that will give students the opportunity to easily scan material, save it to a flash drive or "in the cloud." Finally, the replacement of the large monitors in the collaboration space in the Knowledge Commons will be included along with the addition of collaboration systems that will allow students using the space to share their laptop displays on the monitors.
Dell tablets – This proposal seeks funding to expand the Library's very popular iPad loan program to include tablets running Windows 8. These tablets provide the computing power of a laptop in a tablet format with the availability of Microsoft Office and ability to save work to a flash drive. Tablets are being used in greater numbers because of their portability, are instantly powered on, and provide the applications, browsing, and video capabilities used by students for their coursework. We are looking at the new Dell tablets with 11" and 8" screens. They have at Intel Atom processor, 1.8GHz, 2GB memory, a 128GB hard drive with a keyboard case. They would be checked out for a week at a time.
Scanning stations – The KIC Bookeye 4 scanner is a scanning workstation that provides an intuitive interface for scanning materials. The scanned images can be saved to a flash drive, emailed, or saved in the student's campus drive or Dropbox/Google Drive/SkyDrive. Scanning will be free.
Monitors and collaboration systems – The 6 collaborative work areas behind the research and information desk give students large monitors on which to display their work. They are a popular work area but one complaint students have is that they cannot easily use the monitors to display what is on their laptops. Funding is requested to replace the 32" monitors with 42" models and add TeamWork collaboration systems that would allow up to 4 laptops to be connected to a monitor at one time.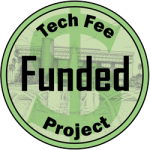 Student Access to Project Resources
Number of students that simultaneously benefit from the proposed project:

Dell tablets – There are currently 107 iPads available for checkout. They are checked out 47 weeks of the year according to reports from the Circulation Department. This project will provide an additional 100 devices to check out a week at a time.
Scanning stations – There will be 3 scanning stations in the public areas of the building available to users all hours the library is open (105 hours a week).
Monitors and collaboration systems – There are six of these collaborative stations in the Knowledge Commons. Each area seats 6 so 36 students can be accommodated in the area. This area is open all hours the library is open (105 hours).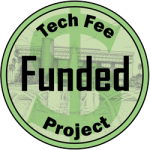 Benefit to Student Learning
While many students have their own laptops and tablets, on a campus of 60,000 students there are still a substantial number who do not, which is borne out by the circulation numbers for the iPads and laptops. The availability of e-resources (including the emerging e-textbook market), access to streaming video of lectures, online tests, and the amount of campus business that is conducted solely online make access to a PC, laptop, tablet, or other internet-enabled device essential for keeping on top of information students are being sent. Providing scanning technology that provides the student the ability to capture material and save it in a variety of ways gives the student the flexibility to access needed resources and use them in assignments and papers from whatever location on campus the student happens to be. Finally, the ability to share work in a collaborative setting enhances the educational experience and creates an atmosphere for intellectual dialogue.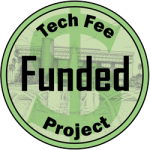 Project Success Metrics and Assessment Plan
Dell Tablets – Circulation statistics will be gathered by the Circulation Department to measure their use. Users are also queried about their experience using the equipment and that will also be recorded. Suggestions and opinions about the services are and will continue to be solicited. Anecdotal data show that as soon as iPads are turned in they are checked out again and it is anticipated that tablet use will equal that.
Scanning stations – Use will be monitored and recorded monthly and measured against network printing and copy machine use to detect expected trends.
Monitors and collaboration systems – The collaborative spaces where this equipment is placed will be overseen to gauge the use of the collaboration systems and numbers of students in the spaces.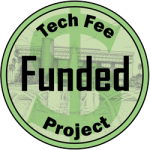 Project Sustainability
Without a dedicated technology budget, the Libraries relies on technology fee funding to implement new innovations and replace aging equipment. Extended warranties are included in all purchases and obsolescence is anticipated. By staggering purchases, surveying staff and users regularly, and monitoring new technologies, the Libraries keeps current on the technology needs of users. The Libraries' IT staff support and maintain current equipment and plan for future enhancements.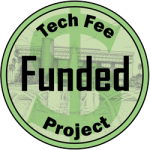 Technology Fee Proposal Budget Narrative
The Dell tablets proposed will be configured to have the following: Intel Atom Processor (1.8 GHz), 2 GB memory, 128GB hard drive, Windows 8 (32-bit), 3 year warranty, keyboard case, and Computrace for security. They will be divided between 11 and 8-inch models, which are new in 2013. Library IT has been in negotiation with Dell and the Technology Product Center and the costs in the budget reflect a volume discount. Charging carts will house the tablets where they will be secured and re-imaged after each use.
The KIC Bookeye 4 is a planetary (scans from above) scanner housed in a workstation known for its intuitive design and flexibility. Image Access, with offices in Boca Raton, has provided pricing and specifications for the Bookeye 4. The scanner is widely used in libraries and has a good reputation for ease of use and reliability. The PCs for use with the Bookeye scanners are quoted separately and will be purchased through the Technology Product Center.
The 32" monitors in the Knowledge Commons collaborative work area would be replaced with 42" monitors. Six TeamWork collaboration systems, which will allow 4 laptops to be connected to each monitor, will also be installed. These connections are HDMI. One TeamWork VGA kit will be installed on one station to accommodate users without HDMI cables.
Unit Cost
Number
Total Cost
Dell tablets
989
100
98,900
Charging/imaging
2,300
2
4,600
Charging/imaging
760
1
760
KIC Bookeye 4
18,682
3
56,046
PC for Bookeye
1,200
3
3,600
Monitor replacement (42″)
900
6
5,400
TeamWork collaboration system
2,100
6
12,600
TeamWork VGA Kit
679
1
679
Total
182,585
Cost share
6,000
AY 13-14 Request
176,585
AY 13-14 Award
124,835
Note: The project was awarded funding for 50 Dell tablets instead of 100 and 2 carts instead of 3.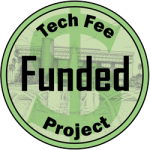 Space Administration
No space is needed for the project.