Rosen Technology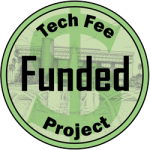 Project Description
This project will enrich the technology and learning environment at the Rosen College of Hospitality Management Library. The Rosen Library, serving a student population of over 3,000 students, experienced a gate count of 138,384 in fiscal year 2012/2013. The library has impressive user traffic on a per-square-foot and per-student basis and is well received by Rosen students, faculty, and administration.
The following improvements will enrich the technology and learning environment and yield even more utilization of this facility:
Component 1: Provide 36 new desktop PCs to replace one-for-one the existing desktop PCs in the library. This is a cycle rotation, as the existing PCs are five years old, have performance issues, and are beginning to fail in a physical sense. Inability to replace the desktops will create a substandard technology environment in the library, due to diminishing speed and growing hardware failures. Library PCs are used increasingly as extensions of the classroom to assist with online coursework and to access online library resources.
Component 2: Provide 24 Dell Latitude 10 tablets (or updated model at time of purchase) to leverage technology access in the library. These devices will be a new feature and will not replace any existing technology. The Dell Latitude tablets are designed to be "a tablet that works like a PC." Accordingly, they are especially useful for an educational environment, since they operate on Windows and support saving to a flash drive and running software such as Microsoft Office. To increase their productivity, the tablets will be combined with a Bluetooth keyboard and will be preloaded with a web browser and software such as the Microsoft Office suite – enabling access to web courses and providing standard tools for online learning and instruction. These small and lightweight devices will provide mobility to take advantage of the array of Rosen Library seating options. Students will also be allowed to check out the tablets for use throughout the wireless-enabled Rosen College campus. The tablets will also be used for group library instruction sessions held in the library's meeting room.
Component 3: Provide a desktop PC with a wall mounted 32" monitor and a Blu-ray player in each of the three existing study rooms to enhance technology utilization and general use of these rooms. These installations will be all new and not replace any existing technology. Providing three Internet-connected desktop PCs, 32" wall mounted monitors, and Blu-ray players will enhance the technology and collaborative learning environment in these three study rooms.
Component 4: Install 12 data drops and activate 8 new data locations to improve the wiring to desktop PCs in the rear of the Rosen Library. This work will bring up to campus and University standards the wiring and networking for this existing bank of computers in the Library.
Component 5: Add one ceiling-mounted wireless access point in the main room of the library, to ensure optimal wireless performance. The Library currently has two AP's – one in a group study room and one behind the service desk. This third AP will improve coverage in the main seating area of the Library.
Note: Components 4 and 5 are probably best described as infrastructure elements, however the preponderance of expense, as well as emphasis of the overall proposal, is more oriented toward direct student facing usage, hence the student facing categorization.
Collaboration: The Rosen College Library represents a close collaboration between University Libraries and the Rosen College of Hospitality Management, most particularly as it relates to IT hardware and software.
Port availability to support network for the additional desktops is being provided by the Rosen College at no additional cost to the Library or this project.
Existing wireless access to support the additional wireless devices for this project is provided by the Rosen College at no additional cost to the Library or this project. Without this technology support this project would not be possible.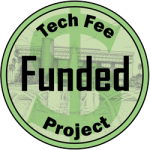 Student Access to Project Resources
Number of students that simultaneously benefit from the proposed project: 78
Access to these resources is available to both full- and part-time students. Being cognizant of the fact that the average user stay is usually in low single hours, these improvements are easily able to support several hundred students per day. The Rosen Library is open 69 hours per week, including evening and weekend hours.
The 36 desktop PCs in main library will serve 36 students. The 24 Dell tablets will provide technology tools to another 24 persons simultaneously. The three study rooms, each with a capacity of 6 students, will reach another 18 students. The total simultaneous use possibility from the three components is therefore 78 users.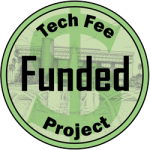 Benefit to Student Learning
Many Rosen students depend on the availability of the Rosen Library computers and network to do their schoolwork. The Rosen Library is open and staffed more hours than any other student learning building on the Rosen campus. Not surprisingly, the current 36 desktop PCs are the most heavily used workspaces in the library. However, these desktops are five years old, are becoming slow and undependable, and are out-of-warranty. Replacing these desktops (Component 1) will ensure that Rosen students continue to benefit from a reliable computing environment, as well as have access to the latest enhancements and educational software.
In addition, both anecdotal evidence and student surveys conducted annually indicate strong preferences for more group study spaces, greater access to computers, and demand for a variety of technology devices. The addition of portable tablets (Component 2) will provide Rosen students with more options for individual or group computing, whenever and wherever they need. The Latitude 10 tablets run on Windows and include a USB port, allowing students to utilize them like a traditional laptop as well as a cutting-edge tablet, and thereby increasing their ability to serve as flexible tools for learning and productivity. Application software will also be pre-loaded onto the Latitudes, including a web browser and the Microsoft Office suite. Each tablet will also be paired with a Kensington Bluetooth Keyboard and Case, to allow full use of the loaded software and to extend the life of the device. In addition, differing borrowing periods will be assigned to the tablets in order to be able to retain on short notice a sufficient number for group library instruction sessions. These group library instruction sessions take place several times a semester in the Rosen Library's meeting room, by request of Rosen faculty members, and until now these sessions have mostly been low-tech, lecture-based sessions. Having the tablets will allow students to receive hands-on computer instruction and increase the pedagogical approaches available in that setting.
There are no existing group work areas in the Rosen Library that incorporate technology for viewing or creating digital content. Therefore, adding the study room PCs with large-screen monitor and Blu-ray players (Component 3) will greatly enhance the technology and collaborative opportunities at the Rosen Library. Students will be able to easily display and create content via the desktop PCs, access the internet, and view traditional (DVD or Blu-ray) and streaming video content, all in a private group study room setting.
Enhancing the wiring (Component 4) will standardize the network connections for some of the desktop PCs to ensure that all computer installations in the Library meet campus and University standards.
Improving the Rosen Library wireless signal strength and coverage (Component 5) will ensure that students using the wireless network – whether with the library's new portable computing devices or with their own laptops, tablets, and smart phones – will be able to do their work seamlessly from anywhere in the library.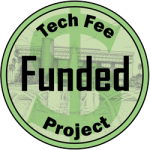 Project Success Metrics and Assessment Plan
The slated improvements were inspired by surveys conducted over the last three years asking for suggestions and feedback from students on ways to improve the library. The survey results consistently showed a demand for desktops, portable computing devices, and flexible collaboration options. The slated improvements are also partly based on elements of the successful tech-fee-funded computer replacement project in the main campus's John C. Hitt Library.
Following implementation of these improvements, Rosen Library staff will continue to solicit student feedback and gauge usage of the facility. The library will continue to administer student surveys to ascertain changes in student needs and preferences. In addition, circulation statistics will be monitored to gauge usage of the portable computing devices, and gate counts will be monitored to gauge physical utilization of the library.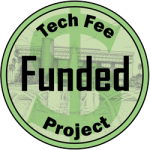 Project Sustainability
Technology components should have a useful life of 5-6 years. Replacement of PCs and other depreciable hardware will be funded through library operating funds. The project does not require additional staffing or other recurring costs.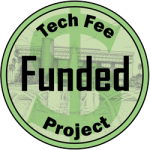 Technology Fee Proposal Budget Narrative
| Number of Units | Description |
| --- | --- |
| 36 | Dell "All in One's – Will replace the existing PCs in the main room of the library. Specs: Dell OptiPlex 9020 AIO, Intel Core i5 processor, 8GB memory, 500GB HD, 8X Slimline DVD+/-RW drive, 23" display. |
| 3 | Dell 9020 desktop PCs' will be added to the study rooms to provide collaborative opportunities. Specs: Intel® Core™ i7 Processor, 8GB memory, 1TB HD. New devices. Do not replace any hardware. |
| 3 | NEC 32" monitors for the study rooms to accompany the 9020 PC's. Commercial grade, LED backlighting, 1366X768, 60hzEdge-lit Commercial-Grade Display w/ Integrated Tuner; model E324. |
| 3 | Wall kits to hang the monitors. NEC. MODEL WMK-3257. |
| 3 | Locks to help secure the 9020 desktop PCs in the study rooms |
| 3 | Samsung Blu-Ray players. Rosen Library offers a modest selection of Blu Ray discs for checkout and in-library use. Faculty also still put DVD's on reserve. Samsung BD-E5300 |
| 24 | Dell Latitude 10 Tablets with 11" screen, Intel Atom processor, 1.8GHz, 2GB memory, a 128GB hard drive. New devices. They do no replace existing hardware. |
| 24 | Kensington Bluetooth keyboard and case for the Latitude 10's. Keyboards create more functionality. Cases add protection. |
| 1 | Charge cart for the Latitude 10's. Charges up to 30 devices, Ergotron # 24-30*-085 |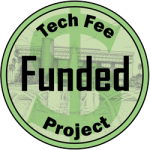 Space Administration
No space is needed for the project.