Comparable Technology for Regional Campus Libraries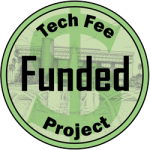 Project Description
The purpose of this proposal is to replicate for students taking classes on regional campuses some of the same technology services that are available at the John C. Hitt Library in Orlando. Each campus has unique needs; some are interested in providing new iPads that can be checked out of the library, other campuses need additional laptops or iMacs, and some wish to provide access to multimedia development software. This request is for 19 iPads, 13 laptops, one iMac and selected software. Details of this request by campus are in attachment 1.
The John C Hitt Library has a long and successful track record of facilitating student use of new and emerging technologies. At present the main library lends laptops, DVD players, iPads, Flip and digital cameras, voice recorders, scanners and portable Blu-ray players. Regional campus students have access to this equipment only if they travel to Orlando or if the partner library on their campus (such as Valencia, Seminole State, Brevard, etc.) lends similar equipment. No partner library is currently circulating iPads.
iPads represent a significant learning tool given the expansion of electronic library resources. Purchase of library materials for regional campuses continues to focus on electronic formats that provide multiple access points without duplicate costs. The Libraries ever-increasing expenditures for databases, electronic journals and e-books demonstrate the importance of this format and consequently, the importance of the ability to retrieve materials on portable devices. Other uses for the iPad include access to reserve reading lists, web courses, and course videos. Not only does this proposal introduce students to today's technology, it also offers essential access to resources for students who may not have ready access to equipment outside of the library facilities. It also supplements existing library equipment by providing additional wireless computers.
Across all disciplines, UCF students are expected to prepare multimedia presentations for virtual and face-to-face learning projects. This proposal also requests multimedia development software that can provide UCF regional campus students with access to image, video, and audio creating/editing software as well as hardware to upload and save files. To create a Multimedia Development Station, PCs or laptops can be configured with new software for student use. Software including Adobe Photoshop (image editor), Adobe Premiere (video editor), and Audacity (free sound editor) can be used to create dynamic student presentations. Adobe Acrobat Pro and Microsoft Office used together can provide UCF students with the ability to create professional quality papers, reports, and portfolios that include interactive elements like hyperlinked content, video, and sound.
All of the participating UCF librarians have consulted with both UCF Regional and college partner IT and Circulation staffs to determine support for the project. All equipment will first be processed by UCF Regional Campus IT staff to take advantage of campus licensing for Microsoft Office and for property control.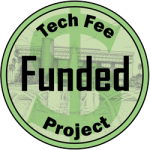 Student Access to Project Resources
Number of students to simultaneously benefit is equal to the pieces of equipment requested: 19 iPads + 13 laptops + 1 iMac = 33.
Estimated total cost of the equipment is $34,463 ($30,963 with $3500 cost share) divided by 33 simultaneous users for a cost of $1,044.33 ($938.27 cost share) per student. This cost per student is greatly reduced by the number of times an item is used per day. The same cost divided by the number of regional students (4,385) registered on the participating campuses yields a cost per student of $7.86 ($7.06 cost share).
Access
iPads or laptops will be available for check out to any student registered on the specific regional campus that is circulating the equipment. Some equipment in this proposal may be available for use outside the library building and may be available for use for a period of up to one week. Lending procedures may vary with each unique partner library's policies. Library hours of access vary by campus by generally range from 52 to 76 hours per week with the average being 66 hours per week. Details in attachment 1.
As is the practice in the Orlando library, students will be required to sign a form accepting responsibility for replacement costs if the equipment is lost, stolen or broken. Students will be responsible for downloading any apps that are not already on the iPad. They would have to use their personal Apple ID and iTunes account to do this. Students will be cautioned not to put passwords on the iPads. When an iPad is returned, circulation staff will reset the iPad to the original profile.
The multimedia station iMac or laptop will be available for any student registered on the specific participating regional campus. The multimedia equipment in this proposal will be available for use inside the library building. Depending on popularity and demand, a process may be established for reservations and time limits.
Equipment will be available either at the reserve or circulation desk depending on the campus configuration. The UCF wireless access will be used in Cocoa, Palm Bay and Daytona, and partner wireless network will be used on the other campuses.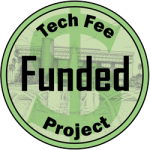 Benefit to Student Learning
There are a number of well-known general benefits to providing students with access to the latest technology. Exposure to new technology and software helps students develop skills for using the equipment effectively. Making access to databases easier through practice helps students learn how to successfully search for and use information. It is critical for students to develop these skills and experiences to be competitive in the workplace.
The iPads can be used for on-demand eBook service in place of Interlibrary Loan. They can be preloaded with specific reserve materials or textbooks or linked to some UCF eBook databases. For example, shortcuts to medical apps and databases such as DynaMed and ePocrates (already used on iPads at the UCF Medical College) could be loaded for regional nursing students enrolled in Nur3225 and Nur4227, Nursing Care of the Adult. Both Business students and Debate Club members suggested that iPads would be helpful to prepare and practice speeches.
In Palm Bay and other locations, the Early Childhood program class EEC4268 discusses the technology that future teachers are expected to use in order to be prepared for what their students already have in the classroom. This proposal puts the necessary equipment into the hands of the UCF Education students. The iPads will be on reserve and checked out for in-library use only. When the education technology class has its assignment, Palm Bay will dedicate one iPad to be reserved only for that class for the 2 months the students work on that assignment. There may be a similar reserve pattern in Cocoa and Ocala. To accommodate these students currently, since Regionals do not have their own iPads, the UCF librarian at Palm Bay borrowed an iPad from the Orlando library for extended loan to the Palm Bay library reserve desk.
At the UCF Daytona State Campus, adding an iMac media station to the library would be beneficial since most UCF photography students use iMacs for their creative work. While the photography labs are well-equipped with iMac computers, having at least one media workstation in the library would give photography students the ability to do research or utilize the library collection while working on their projects on the iMac. Currently, all UCF computers in the Daytona State College library are PCs. The library staff wants to be welcoming and helpful to students in the photography media programs and photography teaching faculty agree that it would be useful to have some version of the iMac in the library.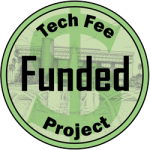 Project Success Metrics and Assessment Plan
This project supports the University's goal of partnership by strengthening resource sharing with both college partners and potential UCF transfer students. Circulation statistics and student demand will serve as the measures of usefulness of the equipment lending project. Student surveys will be available on or near the iMac multimedia station for immediate feedback after each use session. Regional campus librarians will collect anecdotal data from students as part of their regular outreach communications. The national LibQUAL+ survey annually assesses UCF student satisfaction with library programs and services.
Sample usage statistics are available from some libraries for benchmarking purposes. The UCF/BCC joint use libraries in Cocoa and Palm Bay have been circulating laptops for eleven years. On the smaller Palm Bay campus with a BCC enrollment of about 3,000, the average number of circulations per year for the period 2000 to 2010 is 410 checkouts per year. The most recent statistics for Cocoa with BCC enrollment of 5,609 indicates 171 laptop checkouts for fiscal year 2010-11. It is expected that iPads will be equally as popular as laptops. The John C. Hitt library reported 7,714 laptop checkouts (266 times per machine) and 1,732 iPad loans (39 loans per iPad) in FY 2011-12. Although student populations vary greatly, the use per machine can serve as a both a demonstration of and future comparison of value to students.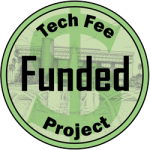 Project Sustainability
This new equipment including both the Multimedia Development Software and the iPad or laptop lending projects may be considered a one-time expense for the life of the warrantied equipment. The Libraries will continue its sharing mission and the pursuit of funding to provide resource access for students. Regional librarians will pursue future Tech Fee Proposals and all other appropriate fiscal avenues to continue to provide exposure to emerging technologies and software for regional campus students. Librarians have secured support from local UCF Regional and college partner IT staff for assistance as needed.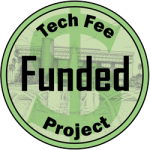 Technology Fee Proposal Budget Narrative
Item
Quantity
Cost
Total
Dell Lattitude E5520 Laptop, warranty & Computrace tracking software
13
$1,371
$17,823
iPads 3g– 16GB w/Wi-Fi
19
$500
9,500
     Otterbox Cases for iPads
19
$70
1,330
     Apple Care protection plan
19
$100
1,900
iMac 27 inch ZOM7 & warranty
1
2,513
Adobe CS6 Master Collection Suite –for iMac
1(DSC)
$617
617
Adobe CS6 Captivate -media
1
$30
30
Adobe CS6 Captivate  -license
3 (BCC)
$165
495
Adobe Photoshop and Premiere Elements – install media
1
$30
30
Adobe Photoshop and Premiere Elements- license
3 (BCC)
$75
225
Sub Total
$34,463
Cost Share
-3500.
Total
30,963
$30,963/ 4385 = $7.06 per student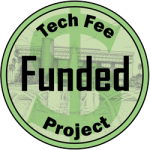 Space Administration
No space is needed for the project.