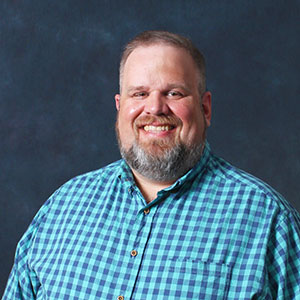 Schedule An Appointment
Research consultations are available Monday to Friday. Please complete the request via the online booking system.
About
Jason Phillips joined the UCF Libraries in January 2022 as Social Sciences Librarian in the Research and Information Services Department.  He is the subject librarian for Criminal Justice and Sociology and provides research assistance, library instruction and collection development in these subject areas.  His research areas of interest are diversity, equity, and inclusion in library services and collections.
Jason previously worked at The University of Alabama as a Serials Copy Cataloger, Mississippi State University as a Government and United Nations Documents Librarian, Georgetown University as the Government Information Librarian, and the University of Arkansas – Fort Smith as a Public Services Librarian.  He comes to UCF with extensive experience with library instruction, conducting in-person and virtual reference interviews, creating educational displays and online learning resources, initiating and coordinating outreach activities, and collection development and management.  He has served in state and national organizations, including a two-year term on ALA's Stonewall Book Award Committee, published three peer-reviewed articles and one book chapter, and in 2021 gave a presentation at an international conference with a conference paper on how college campuses can be more inclusive to transgender people.
Jason received his MLIS degree and a MA in History from The University of Alabama.  Prior to his graduate work, he received a BA in History and Political Science also from The University of Alabama.  In his spare time he explores the local food scene in Orlando, herds cats and dogs, enjoys the outdoors and traveling to scenic spots, cheering for the Crimson Tide, and volunteering for the LGBTQ community.
Collection Development Areas
Criminal Justice
Sociology
Collection Development Policies
Research Guides
The following Research Guides are maintained by Jason Phillips: