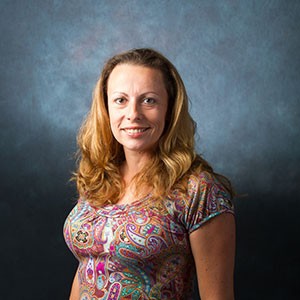 About
What are your main job responsibilities?
Checking items in and out, answering phones, creating both 2d and 3d displays. Monitoring student workers, processing overdue fines and holds. Processing bookdrop. Also helping students and faculty/staff find the items they are looking for in the collection.
What is your favorite part of working at the library?
Beyond helping people when they need it, and creating displays, it is working with my awesome team of coworkers, and getting to know our patrons who come in. I love our patrons, and working here at the CMC you see the same students almost from the first education class they take till their last education class, so you really feel like you know them.
What does working at a library mean to you?
It means being able to be a part of something bigger, and being able to help those who need help, and teaching them how to be able to find the materials by themselves. It gives me great satisfaction when you have helped someone, and then when they come in again, you ask if they need help and they say no you have taught me well.
Which four individuals, living or dead, would you like to eat dinner with the most?
That is a really hard question! Amelia Earhart, Pink, Nina Levine and Alyssa Day two of my favorite current authors and ask how they come up with their books.
What is your favorite book?