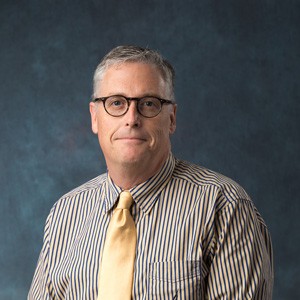 About
David Benjamin joined the UCF Libraries as Head of Special Collections & University Archives in September 2015. David comes from University of Arizona where he was the Assistant Director of the Volkerding Study Center at the Center for Creative Photography. Prior to that he was the Visual Materials Archivist at the Wisconsin Historical Society.
David has a Masters of Library Science from the University of Wisconsin-Madison as well as a Masters of Architecture in American Architecture and Landscape History from the University of Kansas. An archivist for twenty-five plus years, David is involved with a number of regional, national, and international organizations including the Society of American Archivists, chairing their Visual Materials Section from 2010-2012; Association of Moving Image Archivists; Museum Computer Network; Midwest Archives Conference; and Society of Southwest Archivists.
What are your main job responsibilities?
I am responsible for all aspects of managing the department including providing leadership; supervising staff; administering, developing, and promoting department resources; building partnerships within the Libraries, the University, and the central Florida community; managing budgets and resources including collection development funds and endowment accounts; identifying collections/materials to acquire for the department and overseeing their acquisition; and working with students and faculty on campus using our collections.
What is your favorite part of working at the library?
We are the keepers of history and knowledge and our resources are available to all. Libraries are a place where history is kept, warts and all. We do not judge nor do we edit what is going on in the world to ensure everything is perfect.
What does working at a library mean to you?
I am very proud to be a librarian and archivist. It has been said that we are super heroes because of the work we do and the patrons we help, so working in the libraries and archives has given me a super power!
Which four individuals, living or dead, would you like to eat dinner with the most?
First Lady Michelle Obama, Mur Lafferty, Ina Garten, and Amy Thielen. And Amy Thielen gets to cook!
What is your favorite book?
Choosing just one is too hard, so here are a few of mine: "The Lightning-Struck Heart" by T.J. Klune; "Pride and Prejudice and Zombies" and "Unholy Night" both by Seth Grahame-Smith; "Pride and Prejudice" by Jane Austen; "A Christmas Carol" by Charles Dickens; and "The Shambling Guide to New York City" and "Ghost Train to New Orleans" both by Mur Lafferty (OK, anything by Mur Lafferty makes my list as well!)