21st Century Library
Phase I – Automated Retrieval Center
An exciting element of the 21st Century Library is the Automated Retrieval Center, or ARC. Completed in 2018 as Phase I, the ARC houses a robotically guided system which, by virtue of density and height, is able to hold up to nine times more cubic material than conventional library shelving. The library is able to move 90% of its print collection into this compact structure, allowing tens of thousands of square feet to be repurposed as study, research and learning space.
Libraries across the world, including over twenty in the United States, have installed retrieval centers, such as University of Chicago, North Carolina State University, University of Missouri Kansas City, and Georgia Southern University. The John C. Hitt Library ARC is the first of its kind in Florida.
Phase I Features
The John C. Hitt Library ARC has a capacity to hold 1.25 million print volumes.
Phase I includes 6,942 bins and three robotic cranes.
Each bin can hold 100-140 library items.
Transferring books into the ARC will allow the library to expand to 3,500 total user seats.
The space on top of the ARC houses a beautiful Reading Room surrounded by windows on three sides, overlooking the plaza in front of the Student Union.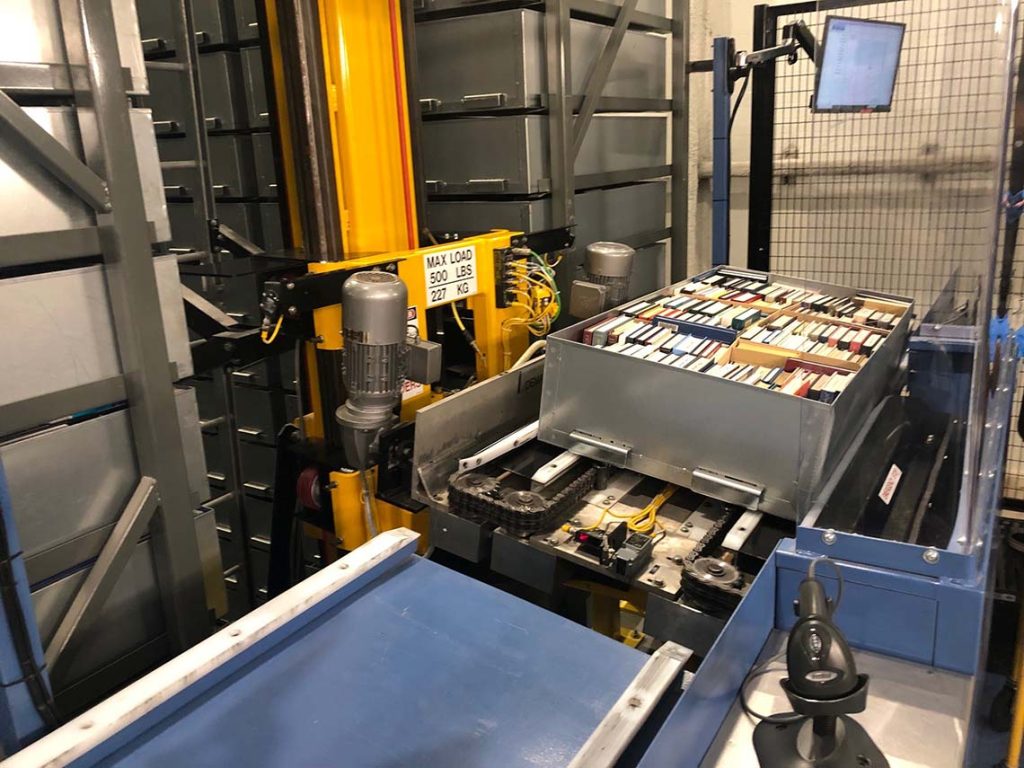 The John C. Hitt Library ARC In Action
Requesting Materials
UCF Students, Faculty, Staff and Community Borrowers
UCF Students, Faculty, and Staff can request materials located in the ARC in Primo. When you have found the item you wish to request in Primo, Click the "Sign in" link under the Request Heading on the item page if you are not currently logged in. If you are logged in, skip past the next 2 bullets.
For UCF Students, Faculty, and Staff, click "UCF NID" on the sign in pop-up and login with your NID and NID password.
For Special Borrowers, click "Community Borrowers" on the sign in pop-up and login with your assigned USER ID and password.
Once you are logged in, a "Request" link will appear next to the "REQUEST OPTIONS" heading. Click the link. Then select the location that you would like to pick up your book and then click "Send Request".
You will be notified through your UCF email when the item is ready to be picked up at the Circulation Desk.
If you are having trouble requesting materials, please contact the Circulation Department: 407-823-2580 or circ@ucf.edu.
Video Tutorial
How to become a Community Borrower
More information about purchasing a community card or obtaining a special borrowers card can be found on our library card policy page.
Visitors & Community
Visitors and members of the community without library cards, but who wish to view an item stored in the ARC, can fill out an ARC Request Form to have books pulled for them.
You will be notified by phone or email when your requested materials have been pulled. They may be viewed and used for free while in the library. Materials can be returned to the Circulation Desk.