21st Century Library
Early Improvements
The Quiet Zone
The 5th Floor Quiet Zone kicked off the 21st Century Library Project. Students had long been requesting a silent space for study, research, and reflection, so it was appropriate to create this area for student use early.
The Quiet Zone accommodates 170 user seats, 90% of which have electrical power within arm's reach. Furniture selection was based on student "sit" testing and rating feedback by way of a phone based app. Each seat is designed for individual work to preserve an atmosphere of quiet. There is no group seating in this area.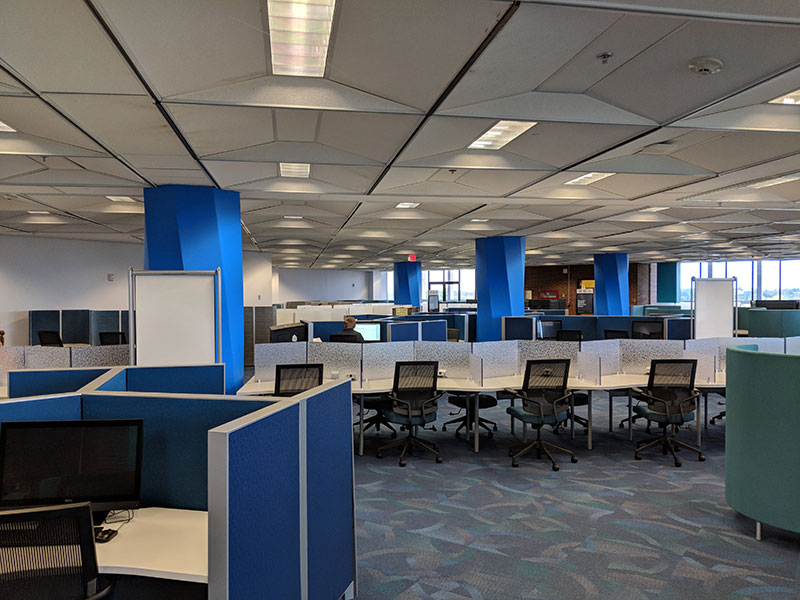 Other Improvements
Restrooms
Restrooms built as part of the 1984 library addition were renovated during spring and summer 2017. The work was designed to make these restrooms accessible to all UCF students, as well as to freshen the look of the rooms, which were installed in 1983-84. New floor tile, stalls, sinks, toilets, faucets, mirrors, and a fresh coat of paint were all part of this upgrade.
While the upgraded "1984" restrooms will remain in the same location when the 21st Century Library Project is complete, the restrooms in the original "1967" library building (the Reflecting Pond side) have plans to be relocated in future phases of construction. Those restrooms (floors 5, 4, 3 and 2M) will not undergo renovation in the near future.
Electrical
Ninety-one electrical outlets were installed on the second (main), third, and fourth floors during summer 2017.
Elevators
The bank of three elevators near the Exhibit Wall and Mezzanine stairway on the second (main) floor were replaced in summer 2017. The remaining elevators were were replaced and refurbished by early fall semester 2017.
Stairwells
Work on all of the library stairwells occurred during summer 2017. Stairwells closed for work, one at a time, throughout the summer and were completed for the start of classes in August 2017.
To bring the stairwells up to the current safety standards, the railings were replaced as well as the floor covering on the steps. The well-worn carpeting was taken up and replaced by a hard surface covering. Walls in the stairwells were painted for a brighter look.
Sprinklers
The building sprinkler system was also updated and brought up to code.