Study Areas with Tech
Projector Whiteboard Study Area
The John C. Hitt Library features a study area equipped with an Projector Whiteboard. The area allows the attached Windows laptop to be displayed onto a whiteboard and can be annotated physically with dry-erase makers.
Details: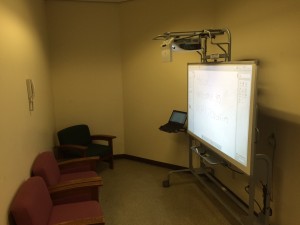 Dry-Erase Whiteboard
Windows laptop with standard library software
Wireless connections to projector for Windows & Android Devices

MiraCast and WiDi connections

Available to currently enrolled UCF students
Location:
1st Floor, towards north restrooms
Collaboration Workspace Study Areas
The Knowledge Commons provides six areas designed for collaboration study.
Details:
Tables with seating up to 6
40″ 1920×1080 resolution Monitor/TV
Windows desktop with standard library software
Extron Teamwork Connection System

Allows included desktop and up to 3 personal devices to be easily connected to monitor
HDMI connectors
Adapters for all common digital connectors included for one of the inputs (Mac, Surface, etc)
Location:
2nd Floor in the Knowledge Commons (just past the Reference & Information Desk on your left)