Home
The John C. Hitt Library [named for our university president on the occasion of his 20th anniversary at UCF] is under the leadership of Director of Libraries Barry B. Baker and offers a variety of space options for students: individual and faculty/graduate student study rooms; a presentation practice room; two library classrooms; quiet study floors; Infusion Café; Knowledge Commons (24,800 square foot learning and technology environment providing seating for 479 undergraduate and graduate students; 196 desktop PC stations; 116 seats with 110v power within easy reach; 167 additional seats in differing configurations including tables,  upholstered chairs with tablet arms, soft seating, and group study settings; and portable whiteboards); and a variety of exhibit spaces on the 2nd and 5th floors.
With just over 100 library faculty and support personnel, and close to 100 student assistants, it is also home for 10 of its 13 departments:
Collections housed in the John C. Hitt Library
Services offered in the John C. Hitt Library
Video Tours
Coming Attractions: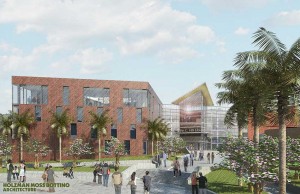 21st Century Library Project is a multi-phased plan to create new spaces for learning, technology, collaboration and resources in the John C. Hitt Library. Working with Holzman Moss Bottino Architects, advanced schematic designs were finalized early in 2015. During fall 2016, work will begin on Phase 1, including the construction of a four-story building housing the automated retrieval center (ARC).  The ARC will be connected to the library on the north side (Student Union side).  Upgrades to elevators and restrooms, as well as fire and safety improvements, will begin.  Phase 1 also includes the creation of space focused on individual quiet study, research, and writing, located on the fifth floor.
At this time, books have been moved from the fifth floor.  To accommodate the shift, collections have been moved throughout the building.  Check book locations in the UCF catalog, or ask for assistance.
During Phase 2 of the project, an exciting collaborative learning space on the top floor of the ARC will be completed. The creation of exciting new space throughout the building and renovation will complete future phases of the 21st Century Library Project.  Tentative completion date: 2019-2021.
Hours
Equipment
cash-to-card machine
copier
printer
color printer
scanner
public computer
Contact
Address
Map
Location
Located in the heart of campus, next to the reflecting pond.
Directions to the University
See the UCF Web site for Directions to UCF or use Google Maps to get driving directions.
Directory
---
5th Floor
-Quiet Study-
Silence Cell Phones
---
4th Floor
-Quiet Study-
Silence Cell Phones
General Collection N – Z
General, Graduate and Faculty Study Rooms
---
General Collection G – M
Oversized Collection A – Z
Current Periodicals and Newspapers
CD / DVD / Blu-ray Media Collection
Tablet, Laptop, iPad, Device Charger Checkout
LibTech Studio (Record / Edit / Present)
Microfilm
General, Graduate, and Faculty Study Rooms
Printers & Scanners
---
---
2nd Floor
Main Floor
Knowledge Commons
Library Entrance Exit
Infusion / Java City (Coffee Shop)
Circulation / Course Reserves Desk
Classroom 235A & 235C
Knowledge Commons
Reference Collection
Printers & Scanners
---
General Collection A – F
Government Information
General Study Rooms
Microfiche
---