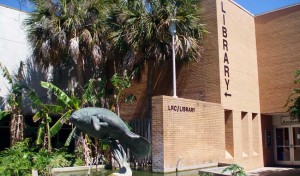 About
UCF Daytona Beach is located at Daytona State College, Daytona Beach Campus.
Quick Links
Getting a UCF ID Card
Obtain a UCF card from Administrative Services Office Building 140, Room 101, Phone: 386-506-4070. Fall and Spring semester hours are 8 am – 5:30 pm Mon.-Thurs. and 8am – 12pm on Friday.
Searching for books
Locate books at this campus by searching the online catalog.
Checking out books
You need a UCF ID card and one other source of identification that lists your current address (i.e., Florida driver's license) to check out materials.
Hours
Staff
Subjects
Applied Science
Criminal Justice
Nursing
Photography
Psychology
Social Sciences
Equipment
cash-to-card machine
copier
printer
color printer
scanner
public computer
Contact
| In this Library | Phone |
| --- | --- |
| Circulation | 386-506-3055 |
| Reference | 386-506-3518 |
Address
UCF Daytona Beach
1200 W. International Speedway Blvd.
Daytona Beach, FL 32114
Map
Directions to the University
From I-4 or US 95 go east on International Speedway Blvd. approximately 3 miles. Daytona State College, 1200 International Speedway Blvd., will be on the left hand. UCF Buildings 140 and 150 are located on White Street, the southeast side of the campus. The Daytona State/UCF Joint-Use Library is located in Building 210.
Accessibility Services
Six computers are available for UCF students on the second floor (2R) of the DSC/UCF joint use library with elevator access. Screen magnification is available on these computers. Students simply need to show their UCF ID, and you will be assisted with logging on to the computer.
Audiovisual Materials
Some videos check out for one week. Videos on reserve can be requested at the Circulation Desk and are viewed in the library.
Borrowing Materials
You may borrow up to 20 items at a time (5 per topic) for a period of 4 weeks. You may renew items one time. Fines for overdue materials are $0.25 per day per item. For lost items, you will be billed for the cost of replacement plus a $10.00 processing fee.
Collections
The Daytona Beach and UCF Joint Campus Library (Bldg. 210) provides a wide range of resources and services including print and non-print collections, access to extensive electronic databases, and professional reference and research assistance. Daytona State College and UCF Libraries network with other state and national libraries to obtain the information you need, when you need it. The circulating collection is downstairs and the reference collection is located on the second floor.
Computer Access
There are 6 UCF workstations available at the Daytona library that may be used to access databases and other library resources. One of the workstations is a Mac.
Printing/Copying/Scanning
Print services are available throughout the library. Photocopies cost $.20 cents each (cash). A UCF print card must be used to print at the UCF computers on the third level (floor 2R). One self-service scanner is available in the Computer Commons.
Reserve Materials
Search for reserve items in the online reserve search. Items on reserve can be requested at the Circulation Desk. Request an item by course name, number, or professor. Most materials circulate for 2 hours. If you return a reserve item late, you will be billed $1.00 per day. Faculty can place an item on reserve by contacting the circulation department (386-506-3055) to fill out a reserves form.
Study Rooms
There are three quiet study rooms that can be reserved on the second floor of the library by students.
Technology Lending
Technology lending is not available currently at this campus.