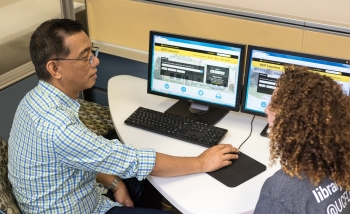 A Research Consultation is a one-on-one appointment with a librarian for extensive, in-depth research assistance.
The most direct and efficient way to set up an appointment is to use the appointment calendars at https://ucf.libcal.com/appointments/main for the subject librarian covering your research discipline. You can claim a specific appointment time and receive immediate confirmation. 
If you cannot identify a subject librarian or appointment time that meets your needs, please fill out the form below as completely as possible. Weekend appointments are not available. We require that requests using this form are submitted at least two full business days prior to the requested date, e.g., an appointment request for Monday needs to be submitted no later than Wednesday the previous week so that we can try to match your request with a librarian.
Other available options for research assistance:
Call or chat with a librarian using our Ask Us service
Ask for help in-person at the Research & Information Desk in the John C. Hitt Library or at the library at other campuses
If all service areas are closed, please consult the Research Guides associated with your subject
If you'd like to request an in-depth appointment, please fill out this form as completely as possible: