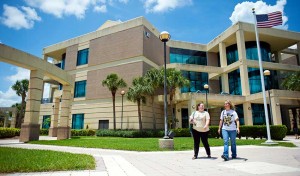 About
UCF Cocoa at Eastern Florida State College, Cocoa Campus
Quick Links
Getting a UCF ID Card
Obtain a UCF card from Administrative Services, Building 3, Room 147. Phone: 321-433-7821. Mon.-Thurs. 8 am – 5:30 pm, Fri. 8 am – 12 pm.
Searching for books
Locate books at this campus by searching the online catalog.
Checking out books
To check out materials from the EFSC library obtain a EFSC Library Card by presenting your UCF ID at the Circulation Desk.
Hours
Staff
Subjects
Applied Science
Communication Sciences and Disorders
Criminal Justice
Elementary Education
History
Legal Studies
Nursing
Psychology
Social Sciences
Sociology
Equipment
copier
printer
color printer
scanner
public computer
Contact
| In this Library | Phone |
| --- | --- |
| Circulation | 321-433-7250 |
| Reference | 321-433-7662 |
Address
UCF Cocoa
1519 Clearlake Road
Cocoa, FL 32922
Map
Directions to the University
From I-95 take exit 202 and go east on SR 524. SR 524 will eventually make a forced right turn and become Clearlake Road. The campus is the first right after the light at Michigan Avenue. The library is located in building 12, located directly behind the Lifelong Learning Center.
From the eastbound toll-road 528 (Beachline – formerly known as the Beeline), take the Clearlake Exit. At the first stop sign after the exit, turn right and then turn left at the stop light on SR 524. SR 524 will become Clearlake Road at the forced right turn. Follow the directions from Clearlake Road above.
Accessibility Services
The EFSC/UCF Joint-Use library in Cocoa has a dedicated computed on the first floor available to students with disabilities which includes Jaws screen reader, FS Reader and Zoom Text for the visually impaired.
Audiovisual Materials
Many videos check out for one week. Videos on reserve can be requested at the Circulation Desk and usually must be viewed in the library.
Borrowing Materials
Take your UCF ID to the Circulation Desk and you may borrow up to 10 items at a time for a period of 3 weeks. You may renew items 1 time. Fines for overdue materials are $0.25 per day per item. For lost items, you will be billed for the cost of replacement plus a $7.50 processing fee.
Collections
The EFSC/UCF Joint-Use library in Cocoa contains over 103,000 book volumes, more than 3700 videos and DVDs, and other physical items such as journals, magazines and newspapers. Cocoa library items can be searched through both the UCF Libraries and EFSC library catalogs.
Computer Access
Access to a variety of computer software packages, such as Word, Excel, PowerPoint, Access, as well as the Internet and e-mail are provided in the InfoLab on the first floor. You must present a library card at the InfoLab Desk (also on the first floor) to be logged on to the computers. Wireless laptops are available for checkout within the library. IPads are also available for a one week loan.
Printing/Copying/Scanning
A photocopy machine is located on the first floor of the library. Photocopies are 10 cents per page. Black and white printing from UCF PCs cost 10 cents per page and a UCF Print Card is required. Self-service scanners are available on the first floor of the library.
Reserve Materials
Items on reserve can be requested at the Circulation Desk. Request an item by course name, number, or professor. Loan periods vary and usually depend on the faculty member. If you return a Reserve item late, you will be billed $1.00 per day. Electronic Reserves are available via the UCF Library Catalog's Course Reserves Search page http://reserves.catalog.fcla.edu/cf.jsp.
Study Rooms
Groups consisting of 4 or more students can reserve the Cocoa Group study room (Rm. 122) for a 4 hour check-out period by stopping by or calling the EFSC/UCF reference desk at 321.433.7662.
Technology Lending
The EFSC/Joint Use Library in Cocoa has 2 laptops available for a 3-hour student checkout. The library also has 5 iPads which can be loaned out for a 1 week period to current students. Students can add software applications through their iTunes account or utilize the over 100 pre-loaded apps.