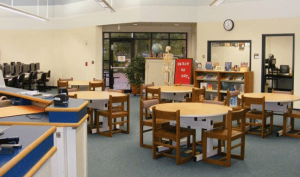 Welcome!
The Curriculum Materials Center is a library that provides representative PreK-12th grade materials for preview, analysis, and circulation to the students, faculty, and staff of UCF and the Florida community at large. The CMC plays a unique role in empowering learners with information literacy skills, providing an open space for creativity and collaboration, and shaping superior future educators. View our current brochure.
The staff of the Curriculum Materials Center look forward to helping you. Just ask! Drop in, call at 407-823-2791, or email at cmc@ucf.edu. And, be sure to Like us on Facebook!
If you would like to schedule a personal or class session within the CMC please fill out an instruction request form.
Hours
Staff
Subjects
Early Childhood Education
Elementary Education
Secondary Education
Children's and Young Adult Literature
PreK-12 grade resources
Equipment
cash-to-card machine
copier
printer
color printer
scanner
public computer
Contact
Address
Education Complex, ED 194
P.O. Box 162666
Orlando, FL 32816-2666
Location
The Curriculum Materials Center is located in the Education Complex, Room 194. Room 194 is in the corner between Einstein's Bagels and the gym.
Directions to the University
See the UCF Web site for Directions to UCF or use Google Maps to get driving directions.
Transit and Parking
The closest parking garages to the Curriculum Materials Center are Garage A and Garage I. You can pay for parking once you arrive in a garage if you do not have a parking pass. The payment meter is by the staircase in each garage. You pay and then place the parking pass in your car.
Services
Access
The Curriculum Materials Center is a public library. Access is available to the public.
Accessibility
Find more information at our Accessibility Services page.
Production Lab
The Curriculum Materials Center has a Production Lab where patrons may create items for their use. The following items are available in the production lab:
Dremel 3D Printer
Overhead projector
Ellison Block Die Cuts
Ellison Die Cut machines 
Glowforge Laser Cutter
Promethean Board
Laminating machine
The die cut machines and die cuts are free to use, but bring your own paper. To see a list of the die cuts that are available, please go to our Ellison Blocks research page. Laminating is 50 cents per foot. And, 3-D printing costs 30 cents per gram.
Computers
The Curriculum Materials Center has computers for research use, a black and white printer, and a color printer. Check out the Computer and Technology page to find out more information.
Need to print or photocopy?
Click on the link below to find out more information about the Curriculum Material Centers Print, Copy, Scan services.
Technology
The Curriculum Materials Center has iPad Air 2s and other useful technology for checkout.. See our Technology Lending page for more information.
Instruction and Research Consultations
If you are a student and would like an orientation to the Curriculum Materials Center or one-on-one time with the librarian to help you with assignments, research, children's or young adult literature, simply contact her at (407) 823-2791 or at Amy.dovydaitis@ucf.edu.
If you are a faculty member and would like your class to have an orientation to the Curriculum Materials Center or to have a specialized instruction session (e.g., genre booktalks, creating text sets, multicultural literature, promethean board use, software and app demos, etc.) then please contact the librarian at (407) 823-2791 or at Amy.dovydaitis@ucf.edu
Research Guides
Our research guides are created to push you in the right direction when you're looking for books, manipulatives, articles, etc. You can find our guides, Education: Curriculum Materials Center (CMC), at the Research Guides page.