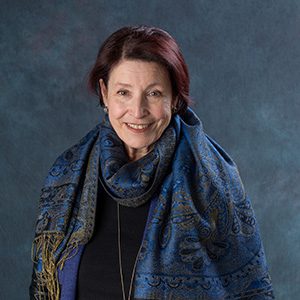 Meg Scharf started working in the UCF Libraries in June 1984 as the first Coordinator of the Libraries' brand new fee-based service, LINE.  In 1988 she transferred to the Reference Services department, serving the last four years as department head.  In April 1999, she became Associate Director for Public Services.  She is currently Associate Director for Communication, Assessment, and Public Relations (since June 2012).  Before coming to UCF she worked in advertising and marketing in Orlando, and as a legislative librarian for the Ohio Legislative Service Commission Research Library in Columbus, Ohio
Scharf has a Master of Business Administration from UCF; a Master of Library Science from Indiana University, Bloomington, Indiana; and a Bachelor of Arts, English Literature/German from Saint Mary's College, Notre Dame, Indiana.  As part of her studies at Saint Mary's College, she completed a year of study at Leopold-Franzens University, University of Innsbruck, Innsbruck, Austria.
Scharf has been published in Journal of Web Librarianship, American Libraries, Research Strategies, and Library Trends.  She is an active member of the Measurement Assessment and Evaluation Section of the Library Leadership Administration and Management Association of the American Library Association.
Scharf has given presentations at a number of conferences of professional organizations, including the American Library Association, EDUCAUSE, the Florida Chapter of the Association for College & Research Libraries, the Florida Library Association, the Association of College and Research Libraries, and the Association of Research Libraries Library Assessment Conference.