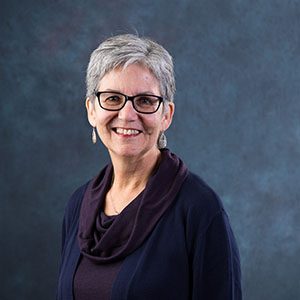 About
Selma Jaskowski began working at the UCF Libraries in 1994, starting as Technology Coordinator.  She is now Associate Director for Library Technology Services & Resource Management.   Before coming to UCF Jaskowski was the first Director of the Panhandle Library Access Network (PLAN) in Panama City Beach, Florida.  She has also been Proposals/Documentation Writer for INLEX, Inc. (Library Automation System) in Monterey, California and Automation Coordinator for the Independent School Library Exchange in Los Angeles, California.
She received her A.B. in English and her A.M.L.S  (with a concentration in information technology) from the University of Michigan.
Jaskowski has been awarded the UCF Excellence in Librarianship award and been appointed to the Florida Library Association's Library Transformers Honor Roll.
Jaskowski has either authored or been part of the proposal/grant writing committees that have been funded over $1.2 million since 2004.  She has articles in Technical Services Quarterly and the Journal of Educational Media and  Library Sciences; and with Lee Dotson authored a chapter "Picturing the Past and Planning for the Future:  Central Florida Memory," in Digitization in the Real World:  Lessons learned from Small and Medium-Sized Digital Projects.