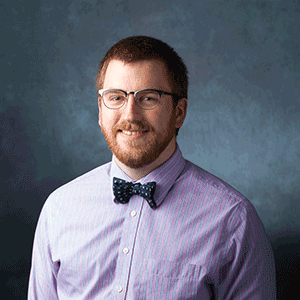 About
What are your main job responsibilities?
I supervise a team of 3 full-time and 15-20 student employees to make the library space functional on a day-to-day basis and over the long-term. Our team reshelves returns, makes sure books or in order on the shelves, and manages the chaos of open study areas. We also plan and implement shifts of the collections and moving materials to serve better the needs of our patrons, collection, and building.
What is your favorite part of working at the library?
Even though our work mainly has to do with the materials in the library, my favorite part of work would be the people. I enjoy serving staff and patrons to make sure each person walks through our door fulfills their goals.
What does working at a library mean to you?
The library is the heart of campus, central to research, study, and culture at UCF. Supporting our mission at the library means supporting our campus community.
Which four individuals, living or dead, would you like to eat dinner with the most?
I am setting aside family members for this: Douglas Adams, Gene Wilder, Tom Baker, and Monty Python (I count the six as one person: Graham Chapman, John Cleese, Terry Gilliam, Eric Idle, Terry Jones).
What is your favorite book?
The Hitchhiker's Guide to the Galaxy by Douglas Adams