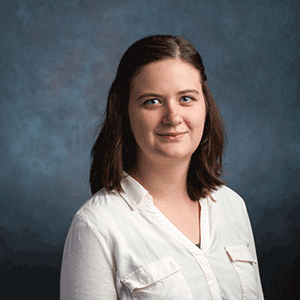 About
What are your main job responsibilities?
My responsibilities include supervising the CMC's circulation desk in the evenings and processing overdue notices for our materials. I also serve as a bit of an unofficial young adult literature specialist, so I read a lot and keep up with everything that's going on in that category so I can help our students (particularly those who are studying to be secondary English teachers).
What is your favorite part of working at the library?
I love helping students find that perfect book for their project–or sometimes just to read for fun. Even better is when they come back to talk about their opinions of the book.
What does working at a library mean to you?
In a time when so much knowledge and so many resources are available at our fingertips, working at a library is all about helping people sift through that sometimes overwhelming amount of information to find not only what is most accurate and reliable, but also what is most pertinent to their needs.
Which four individuals, living or dead, would you like to eat dinner with the most?
President Obama, Jane Austen, Lin-Manuel Miranda, J.K. Rowling
What is your favorite book?
Code Name Verity by Elizabeth Wein