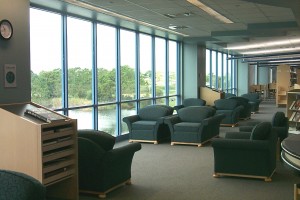 About
UCF Palm Bay is located at Eastern Florida State College, Palm Bay Campus
Quick Links
Getting a UCF ID Card
UCF ID cards are necessary to check out books at this campus. Please see Card Services for Distance Learning & UCF Connect on where to obtain your UCF ID card.
Searching for books
Locate books at this campus by searching the online catalog.
Checking out books
To check out materials from the EFSC library obtain a EFSC Library Card by presenting your UCF ID at the Circulation Desk.
Hours
Staff
Subjects
Applied Science
Criminal Justice
Human Communication
Psychology
Social Sciences
Equipment
copier
printer
color printer
scanner
public computer
Contact
| In this Library | Phone |
| --- | --- |
| Circulation | 321-433-5270 |
| Reference | 321-433-5275 |
Address
UCF Palm Bay
250 Community College Pkwy
Palm Bay, FL 32909
Map
Directions to the University
From I-95 take the SR-514 exit (exit number 173), turn right onto Malabar Rd, turn left onto San Filippo Dr., and finally, turn left onto Community College Pkwy.
Accessibility Services
Palm Bay Library offers kiosk heights and single built-in desk study rooms at ADA standard. The Open Computer Lab in Building 3 has a computer with Jaws, Magic, Imerge, FS Reader, and larger font Keyboard. Assistance is available.
Audiovisual Materials
Many DVDs check out for one week. DVDs on reserve can be requested at the Circulation Desk and usually must be viewed in the library.
Borrowing Materials
Take your UCF ID to the Circulation Desk and you may borrow up to 10 items at a time for a period of 3 weeks. You may renew items 1 time. Fines for overdue materials are $0.25 per day per item. For lost items, you will be billed for the cost of replacement plus a $7.50 processing fee.
Collections
The library contains approximately 23,000 books and 2500 DVDs and Videos. Items are searchable via the home pages for UCF Libraries and EFSC Libraries.
Computer Access
Public access to a variety of computer software packages, such as Word, Excel, PowerPoint, and Access, as well as the Internet are provided. Wireless laptops and iPads are available for checkout within the library. UCF Wireless access is available within the library. The open computer lab in Building 3 is also available for use by UCF students.
Printing/Copying/Scanning
Photocopies are 10 cents per page. Black and white printing from UCF PCs cost 10 cents per page and a UCF Print Card is required. Self-service scanning is available in the Library and the Open Computer Lab in Building 3.
Reserve Materials
Items on reserve can be requested at the Circulation Desk. Request an item by course name, number, or professor. Loan periods vary and usually depend on the faculty member. If you return a Reserve item late, you will be billed $1.00 per day. Electronic Reserves are available via the UCF Library Catalog's Course Reserves search page.
Study Rooms
Palm Bay has 2 large conference style study rooms and one smaller room that can be reserved for up to 4 hours. 2 group rooms and 4 individual study rooms are also available on an open basis. Reservations can be made in person or on the phone and a student ID is required.
Technology Lending
Six laptops are available for a 3 hour check out within the library. There are 5 iPads available for checkout for one week. All items are available to current students.