Open Access Week
2015's Open Access Week events will be announced soon!
International Open Access Week takes place October 19 – 25, 2015.
Previous Events
2014: Open Access Week Speakers
| | |
| --- | --- |
| |   Dr. Peter Suber, answering questions about open access submitted by attendees |
| |   Dr. Barry Mauer, Lost Data: The Specter of the Information Age |
| |   IEEE, Publishing in open access |
| |   Springer, Publishing in open access |
| | |
| |   Gale, Publishing in open access |
| |   Taylor & Francis, Publishing in open access |
| |   Q & A session with IEEE, Springer, Gale, and Taylor & Francis |
| | |
| |   Dr Nancy Stanlick, Open Access Journal Publication |
| |   Dr. Scot French, Open Access and Digital Public History |
| |   Dr. Bruce Janz, Digital Humanities, Open Access and Scholarship in Africa |
| |   Dr. Joyce Nutta and Dr. Florin Mihai, Publishing using the Open Journal System platform |
| |   Dr. Kimberly Voss, Blogging and Tweeting your Open Access Work: Build Buzz and Citations with Social Media |
Dr. Peter Suber
Dr. Peter Suber works for the free circulation of research in every field and language. He is director of the Harvard Office for Scholarly Communication, Director of the Harvard Open Access Project, Faculty Fellow at the Berkman Center for Internet and Society, Senior Researcher at the Scholarly Publishing and Academic Resources Coalition, and Resarch Professor of Philosophy at Earlham college. He will be speaking to us on open access and will answer questions submitted by faculty and attendees prior the event.
Dr. Barry Mauer
Dr. Barry Mauer is a professor at the UCF Department of English and Texts & Technology Ph.D program. One of his interests is "Lost Data," or the problem of information disappearing, which is particularly troublesome for those who publish online. His talk will focus on the fact that while electronic information technologies have fostered an exponential growth in information, we must contend with the specter that inevitably follows us into this world: data loss. Data loss results from a variety of causes, including:
Hard drive and server crashes
Broken web links
Companies and agencies going bankrupt or shutting down
Document formats becoming obsolete
Cyber attacks
In this presentation, Dr. Mauer discusses some of his own experiences with data loss in his open access work.
Four Publisher Presentations on Open Access
Check out presentations by four major publishers IEEE, Springer, Gale, and Taylor & Francis as they each give a 15 minute presentation on open access publishing.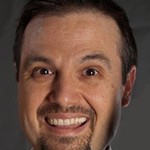 Bora M. Onat from IEEE
Bora M. Onat is Managing Editor, IEEE Access. Dr. Onat and his team manage the growth and operations of IEEE Access, IEEE's first open access mega-journal. Bora M. Onat graduated with a Ph.D. degree in Electrical Engineering from Boston University in May of 1998 focusing on solid state devices and photonics. He joined Lucent Technologies Inc. and became the lead designer of 7 different production photodiodes for telecom applications. He joined Infinera, Inc in July 2002, where he lead the design and processing of unique planar lightwave circuits. Dr. Onat joined Sensors Unlimited (now a division of UTC) in Jan. 2004, where his responsibilities included management of epitaxial growth facility and R&D program management of multiple government contracts. While working at Sensors Unlimited, he also obtained an MBA degree from Temple University, Fox School of Business, in August 2007. Dr. Onat also served as Technical Program Manager at Princeton Lightwave Inc. from November 2007 till November 2013, where his responsibilities included R&D program management of government contracts in addition to wafer and chip fabrication operations management. He has published almost thirty publications including technical journals, conference papers, a book chapter and has four awarded US patents. He is also a Sr. Member IEEE and program committee member for IEEE Photonics Society since 2008. Dr. Onat truly believes that Open Access can have a tremendous impact on advancing technology for humanity, especially in developing countries, and strives to make IEEE Access a mega-journal worthy of the IEEE.
IEEE Access® is an interdisciplinary, applications-oriented, all-electronic archival journal continuously presenting the results of original research or development across all of IEEE's fields of interest. Supported by author publication fees, its hallmarks are a rapid peer review and publication process with open access to all readers. A non-profit organization, IEEE is the world's largest professional association for the advancement of technology. IEEE Access is one of three of IEEE's institute-wide publications that started publication in May 2013.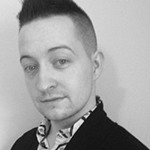 Jordan Schilling from Springer
Jordan Schilling will be answering your questions about open access as it relates to Springer. He is responsible for starting and developing open access journals published by SpringerOpen. Mr. Shilling is also active in external advocacy for open access publishing in the Americas. Prior to his current role, Mr. Shilling was a Publishing Editor for mental health and addiction research. He believes open access is becoming a standard in scholarly communication and it's an optimal choice for researchers to disseminate their work to a wider audience.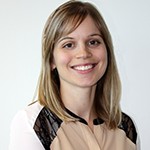 Jennifer Albers – Smith from Gale
Jennifer Albers-Smith is the Director of Marketing, Academic and Special Libraries at Gale, part of Cengage Learning.  She has worked at Gale for eight years in both sales and marketing capacities and has launched several very successful products to the market including Nineteenth Century Collections Online and Gale NewsVault.  Gale's OA philosophy, although yet to be defined, includes actively exploring ways to best surface OA content in a way that is beneficial to the researcher and the author.  As both a publisher and aggregator of a wide range of resources – digitized primary source collections, eBooks, periodical databases, microform, and print – Gale does not publish any open access content, but works with many publishers who do; and includes an extensive amount of public domain materials in their various product offerings. Gale is looking forward to hearing from our academic researchers what their thoughts are around the future of open access and how it will affect their expectations and use of digital collections, ebook collections and aggregated databases.
For additional information about Gale please visit gale.cengage.com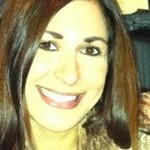 Elyse Profera from Taylor & Francis
Elyse Profera is currently the Regional Sales Manager for the Central U.S. at Taylor & Francis Group and has nearly ten years of corporate marketing experience. Prior, Elyse was Library Communications Manager for the Americas region at Taylor & Francis Group. Elyse joined the company in July 2012 and is responsible for managing library sales in the Central U.S. Prior to this, Elyse worked for Synygy, Inc., the largest provider of sales performance management software and services, as its Marketing Manager, Vertical Markets, and Swets, a leading information services company, as its Marketing Communications Manager. Elyse received her MA in Public Relations from Rowan University and BA from Saint Joseph's University. She is published in: Serials Review, Serials Librarian, and Information Today. Elyse has hosted a variety of industry focus groups, presentations, panel discussions, workshops, training sessions, webinars, and Twitter parties. Elyse also frequently partners with library professionals to speak at Library and Information Science industry conferences and events. Recent speaking engagements include: "Personalizing the Library Service to Improve Scholarly Communication" (NASIG, 2014), "Meeting User Needs and Expectations: One Library's Quest for Discovery" (Charleston, 2013), and "Facilitating Access to Free Online Content: Challenges and Opportunities for the Library Community" (NASIG, 2013).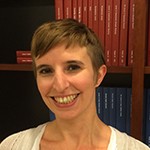 Stacy Sieck from Taylor & Francis
Stacy Sieck is the Library Communications Manager at Taylor & Francis Group and is responsible for managing the library marketing and communications activities for North and South America. She first joined Taylor & Francis in 2008 as the manager of the library and information science journals portfolio and has implemented several open access programs, including Taylor & Francis' Library & Information Sciences Author Rights Pilot Program, a zero embargo pilot program for the LIS author community. Prior to coming to Taylor & Francis, Stacy worked for Merion Matters, the media, marketing, and merchandising company behind the popular ADVANCE brand, as the Editor of a medical magazine.
Dr. Nancy Stanlick
Dr. Nancy Stanlick is and Associate Professor and Assistant Dean in the Department of Philosophy at UCF. She is also one of the co-editors of UCF's own open access journal, the Florida Philosophical Review. FPR (Florida Philosophical Review) is one of the first open access journals in philosophy. They started in 2001 and publish at least one issue per year. They put in place several processes to upload and secure documents, to obtain Web space in the College of Arts and Humanities, and have the backing of the Florida Philosophical Association. They employ an anonymous review process with a usual turn-around time for publication decisions from 4-6 months, and sometimes a bit longer when substantial revisions of a submitted work are required. To put it bluntly, they learned along the way how to handle the open access format.
Dr. Stanlick will be speaking on general information about anonymous peer review process, similarities to traditional anonymous peer review publication process, qualifications of external reviewers, copyright retention, and specific and general processes in advertising, selection, and publication of the journal.
Dr. Scot French
Dr. Scot French is a history professor at UCF and is a digital public historian who specializes in the interpretation of cultural landscapes and sites of memory associated with African American, Southern, and Atlantic World history. His presentation, Open Access and Digital Public History, will showcase the everyday use of open access archives, textbooks, and tools in the emerging field of digital public history.
Open access is vital to his work in the field digital public history. Every week, students in his undergraduate courses work with texts, images, and data made accessible through open-access archives, such as Emory University's Transatlantic Slave Trade Database and the non-profit Internet Archive. Graduate students in his Digital Tools seminar read open-access editions of key texts: Digital Humanities [PDF 8.2MB], Debates in the Digital Humanities, and Writing History in the Digital Age. Finally, his recent publication in the peer-reviewed, open-access Journal of Digital Humanities employed open access tools — Zotero, Paper Machines, and SHIVA — in every phase of the research lifecycle.
Dr. Bruce Janz
Dr. Bruce Janz is a Professor in the Department of Philosophy at UCF, graduate faculty in the Texts and Technologies Ph.D. program, and director of the CAH Center for Humanities and Digital Research. He will speak about the importance of open access, along with the related concepts of open source and open data, in relation to doing digital humanities, and in relation to opening up scholarship and tools for use in Africa. Models of knowledge production and dissemination that restrict the free flow of information also undermine the development of tools and perspectives in the digital humanities, as this depends on the ability to access and compare data sets and existing scholarship to produce new knowledge. Similarly, restrictive models have also long kept African scholars on the sidelines as interpreters of their own cultures and places. Open access models of knowledge sharing offer the potential to level the playing field. There are still issues for Africans in an open access world – will they really get credit for the knowledge they produce? – but these issues could be addressed if African scholars are at the table as open access standards are developed.
Dr. Joyce Nutta
Dr. Joyce W. Nutta is associate professor of English for Speakers of Other Languages (ESOL) and the ESOL Coordinator of the College of Education at the University of Central Florida, where she teaches ESOL Education courses at the graduate level.
Joyce and Dr. Florin Mihai are co- editors of the The Tapestry Journal: An International Multidisciplinary Journal on English Language Learner Education, which is published using the Open Journal System platform. Begun with US Department of Education funding as an online publication, the Tapestry Journal transitioned to Open Access to enable continuation after the grant ended. Joyce and Florin will discuss the development of the journal, its migration to Open Access, and plans for its expansion.
Dr. Kimberly Voss
Kimberly Voss is associate professor of Journalism in the Nicholson School of Communication at the University of Central Florida. Open Access encourages the exchange of ideas and creates a community of scholarship. It is important to the democratization of research and the exploration of knowledge. I have published two articles in the per-reviewed Open Access Journal, Media History Monographs.