Digital Scholarship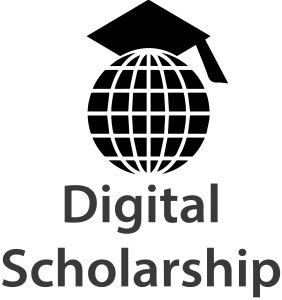 Digital Scholarship encompasses digital copyright, digital curation, digital repositories, digital collections, and associated digital issues and tools as they relate to scholarly communication and open access. If you use technology to create, publish, disseminate, or market your research or other works, then you are a digital scholar.
Articles to Get You Started
Digital Projects and Collections
Successfully managing either digitized or born digital materials requires an understanding of a broad range of concepts including selection criteria, file conversion, metadata and description, technical infrastructure requirements, and preservation.
Guides & Tools
Long Term Preservation
Long term preservation for scholarly communications includes the creation of a university-wide digital preservation plan, institutional repository, and policies that support the future usability of data and materials. This type of preservation also includes provisions for backups and redundancy, as well as selective inclusion in University Archives.
Within the lifecycle of research, many types of materials are generated. The institutional repository provides a collective storage space and management for both scholarly materials and those items collected by University Archives. Archives holds those materials that are considered administrative records, reports, photographs, etc. created by UCF offices and departments, as well as those publications created and disseminated by UCF or are primarily about UCF.
Learn More
Online Journals & Hosting
Editors and publishers of a online journals need to make decisions regarding the level of openness of the journal as well as whether to impose access restrictions and self-archiving policies of the articles. UCF LIbraries offers hosting services and advice. Please see out Online Journals Hosting page for further information and guidance.